A Very Exhausting Yet Productive Saturday
Saturday is probably people's favorite day of the week. This is the time when they can chill with their family or friends, do the things they can't usually do on weekdays, or simply have "me time" before they get to start their week again. Some people, however, had no time to enjoy their Saturday either by choice or under certain circumstances.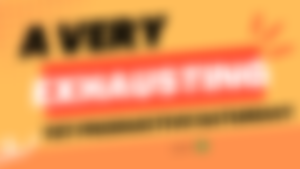 I was actually excited to spend my Saturday yesterday by getting some sleep after being awake the entire Friday night. It was around 6 in the morning when I was so ready to get some beauty rest when suddenly the power went down. I thought it won't take that long since we didn't get some sort of warning/announcement prior to that but after a few mins to an hour, I realized that it won't be going to happen soon.
So instead of sleeping, I had to attend to my boss baby as he was crying nonstop that morning. He got up as soon as our electric fan went off. He was crying so hard coz he wanted me to turn it on again. No matter how much I tried to explain to him, he won't understand anything since he was just a toddler. After almost an hour of trying to calm him down, my niece, who was with us at that time, decided to take him to my sister, which is her mom and nephew's aunt. Their house is just 1 house away from mine.
As soon as they all left, that was the only time I finally got my beauty sleep. After 3-4 hours, I got up again sweating. I felt dehydrated and needed to get some water. Too bad it wasn't cold though. Without having the electric fan on in my room, I feel like I am being cooked alive. At that moment, I felt like I was baked inside this gigantic oven aka my house. The longer I stayed, the faster I get burned. So I got up instead, took a shower to cool off, and then went to my sister after.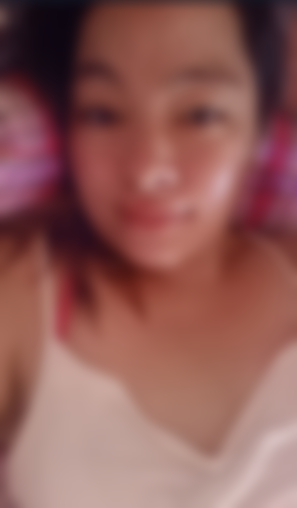 I spent my afternoon sweating and complaining about how hot the weather was. Good thing I was wearing a spaghetti strap top and short shorts to allow my skin to breathe. Later that day, we headed outside to enjoy our afternoon coffee and paired it with my favorite toasted bread that my sister bought before they got home from the hospital. The waiting game was over when the electricity resumed around 6 in the evening and made everyone so happy again, including myself, of course.
The real struggle came in at night. After we had our dinner, I took the baby with me and a puppy, and his two cousins, and went home. Mom had to stay with my sister though to attend to her needs as she can't do much at the moment. As soon as we reached home, I had to sweep the floor, wash the dishes and his feeding bottles, and take the baby for a shower to prepare him for his bedtime. I showered as well after him.
Then I went on to my computer to start my eldest nephew's modules. He asked me to help him with his Filipino and Science lessons as he had to finish the other subjects. The modules were given to him pretty late so he had no time to finish everything on time. So as a good tita, I decided to help him with his modules so he won't be scolded by his mom.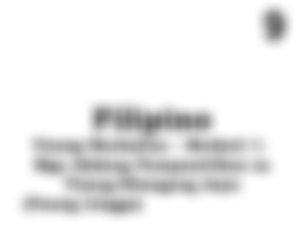 I first answered Filipino coz I thought it was so easy but to be honest, it was hard. I was having a hard time understanding the questions so I googled them instead. Good thing there was Brainly, a peer-to-peer learning platform for students, parents, and teachers to ask and answer homework questions. Without Brainly, I would have been doomed as I had no clue how to answer them.
As soon as I finished Filipino, I went on to start Science. Answering Science was more interesting than Filipino. It was better in the sense that I also got to learn something from reading it. The lesson was about Respiratory and Circulatory Systems. I know we had lessons like this before, but I don't think I have remembered any of them. So answering Science was really interesting and fun for me because I got to learn as well. LOL.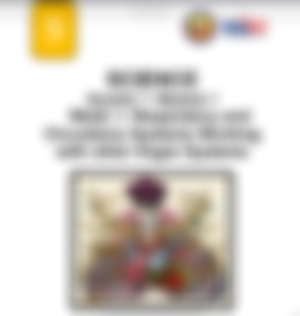 Despite having Brainly as my main source of getting two modules done, it still took me several hours to finish both. Of course, I had to verify the answers if they were correct by checking more similar questions and see if they have the same answer. Some have different answers you know, so it's best to have them verified. I don't just rely on one source alone. After all, it was for my nephew, so I needed to make sure the answers were all or mostly correct.
I finally finished everything around 6 in the morning and after I sent the answers and file to my nephew via messenger, I went for a quickie nap while I was still on my chair. I transferred to bed though and continued my beauty rest. After more or less 5 hours of sleep, I woke up to check my surroundings and noticed that they had all left me alone again.

As you can tell, my Saturday wasn't so good at all. Whole day exhaustion, thanks to the unexpected power interruption that took almost 12 hours to resume and to my nephew's modules. Despite that, I was so happy that I still managed to be productive by helping him finish his modules on time.
Today's a new day and hopefully, it will be better than yesterday. At the time of writing, it's past 2 pm here and after this, I will have to get ready to visit my sister and babysit my boss baby again.
Anyway, how was your Saturday? Was it productive? Did you have fun with family or friends? Or did you have a similar Saturday as me? Let me know in the comments below.
---
Feel free to follow me on:
noise.cash | Publish0x | Hive | Torum | Twitter
---