Make sure to tried this meryenda ingredients for your kids. A new flavor of turon that surely your kids will love this.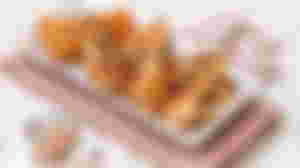 Chocnut Turon Ingredients:
12 pieces chocnut

4 tablespoons water

12 lumpia wrappers

6 saba bananas, sliced in half lengthwise

2 cups oil

1 cup brown sugar

sesame seeds, for garnish
Chocnut Turon Procedure:
Place Chocnut in a bowl. Using a fork, mash until powdery. Slowly add water and mix to form a paste; set aside.

Place a lumpia wrapper on a flat work surface. Place a saba half in the center and add 1 tablespoon Chocnut paste on top.

Fold the sides of the wrapper in and roll tightly into a log. Dab the edges of the wrapper with water to seal. Repeat process to make 12 rolls.

Heat oil in a skillet over medium heat. Carefully add turon pieces, then sprinkle brown sugar on top. Flip the rolls to coat in melted sugar. Once turon turns golden brown, remove from heat and place on a rack to drain.

Sprinkle sesame seeds on top. Let cool for a few minutes to allow sugar coating to harden.