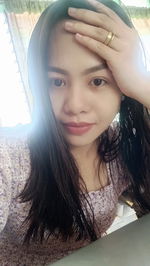 Lots of people will come to our life. They come and go, and leave something in our life, either lessons or happiness.
Relatives and friends play a big role for us to be mold as a person when we welcome them in our life. We will know those who's ready to be with us in sadness and happiness in our life. They either go or stay with us when we're in critical situation.
What will you do if you have a kind of relatives or friends that only good to you because they can only benefit something from you? Will you embrace them despite of being that kind of a person? Or, are you strong enough to believe that it's better to be alone than to be with someone who'll just use you because they can have something from you?
Relatives should be there for us to lend us a hand when we need them. Relatives that ready to accept all the flaws and imperfections we have. But it's bright as sun's shine that lots of relatives nowadays will just accept you as family if you have everything. But, if you don't have something to have them a benefits, they're going to ignore you especially when you don't have anything you proved in life.

Friends should be there for us not only for making us happy all the time. They're should be there to sympathize when we're down and that we have someone to lean on and vice versa. Friends should helped hand in hand without living other one behind.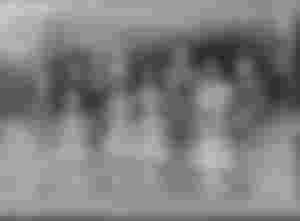 I have lots of relatives. Some are good and some are not. In my father's side, I don't have problems with them cause they accept our status. My father's siblings are there for us ready to help. They even encourage us to pursue our studies. Though they're far from us because they're living in the city and we're living in the province, they didn't forget to ask how we are. I saw how they helped my father even if my father won't ask some help with them. They even got disappointed with my father for not asking some help from them. They said that they're family so there's no need to be ashamed. I can say that my father's siblings have good status in life, only my father was in need for being poor. Actually, my father will not be this poor if my grandma didn't married again to another man when my grandfather died cause she have pension that time. But when she married another man, the pension from my diseased grandfather had stopped. I can't blame her for marrying another man cause she's so young that time. Her age when my grandfather died was 23, so yeah, she's young and still looked maiden that time even having four children in her first husband. My father's two sibling died when they were little, so he and their youngest only lived. Until their mother married to her second husband. Now they have another set of siblings, they're three. I can say that they're fortunate than my father but I am just glad that they're all good to us. And they accepted my father as their eldest sibling. They helped my father especially the eldest one in the second family. I can say that my Tita is so generous, she helped me a lot in my college days. She's also the reason why I learned about noise.cash and read.cash later.
You see, my father's siblings loved us without thinking of the benefits they'll have from us cause they totally know that we don't have anything to give to them on return. I and my family were ashamed of them for being like that. But thankful at the same time. They're so proud of what we had received from above. When I graduated at college, they're the one that show happiness for us. I know, they're so proud for us. They're even telling my father that we go back to Manila and live there with them in a compound, but then my father declined. It's been 23 years that they saw each other. It's been so long, I hope they'll be together soon.
Of how good my father's siblings to us, it is a total opposite with my mother's side. Since child I saw how they treat us as their relatives. I can't even say if they really treated us good cause since then, they're bad to us. I can't even think of things that they've done good towards my family. All we received from them were criticism. Not until the day that I graduated in college. The day that I pass the board exam and when I worked in a private school. They seem good to us, but then I know what's behind those smile they're given to us. Now, they showed again their colors, especially their eldest. Materials doesn't matter to me. So, it's okay that they'll not give my mother some cause we can already afford to buy if we wanted to, but then we're focus on much important things than those material things they're boasting to our face. They're just good to us if they see something good we have in the house. They're just good to us when my father have work and have money. But when we have nothing and almost nothing to eat, they will act like strangers to us. They even taught their grandchildren to act bad in front of my parents. But everytime I went home to my parents house, they're all there as if I didn't know what they've done. Yes, I still talked to them but not the talk they expecting me to do. I still respect them as elder but they will not have what they think will have in showing good to me. If they're really good at us and accepted us as their relatives, they should show goodness to my parents too and not just me.
I am still grateful for having other relatives. So grateful with my father's side. They're the true relatives for me cause even after all the hardships my parents went through, they was there and proud. They might be far from us but seems like they're just a neighbor. Unlike my mother's side, they're our neighbors yet they're so far and can't be reach.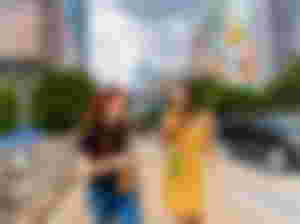 I can say that I have lots of friends. Friends from childhood, high school and college. But some of them were gone now, I mean they're not like before. Maybe they're busy with their lives now and I understand.
I have ex-friends, I already wrote an article about the one friend of mine here of how our friendship ended bad. And honestly speaking, I don't have any regrets that our friendship was cut cause I learned from her that having a friend should be cautious too. Cautious because people wants to be friends of you when they benefit from you. They should not be called as friends cause in the first place they're not real after all.
I have friends now who I know I can rely on. I felt that they're not taking me for granted and that they didn't just want me by their side because they will have anything from me. I just hope they're sincere as me cause if I say friend, I mean giving my trust to them. I know it's not good because I might be hurt again if someone will do the same as my ex-friend. Will, I just hope they're not. But if they did so, I don't have the right to complain caused it's decision. And if that will happen, I will surely will focus on my own family than just to have another set of friends. I just hope that our friendship will long last without dragging each one of us down.
Always reminds ourselves that it's better to be alone than to have someone who will just use you for their own benefits. I know, we still find good people that will be in our side when we need them and vice versa. A true relatives and friends will be their in thick and thin in facing our lives. It should be give and take, not just taka and take.
If we will encounter such kind of people who will just use us for their own, it's time for us to let go of them even how hard it would be. There should no regrets in letting go of persons who only looked for themselves and having no concern of you at all. We should learn from them and not made the same mistake. Have our worth visible by giving ourselves time to breath without them.
Proving those kind of person that you can make things without them. And that you can make your goal achieved even without their help or them accepting your worth. After all, what matters most is that yourself and those who truely believed in you as a person.
*****************************
I want to mention my friend here in read.cash who's been looking for a bebe. Happy happy happy birthday Sir @Eunoia , I wish you a good health and more bebes to come. If ever someone read this and a single lady, and if ever you're interested with him or you're also finding bebe, you can visit his articles cause I know you'll be totally hooked or maybe fall in love with our birthday boy. Hahaha. He also have business now so sure you will not be hungry if you're with him. (Patay talaga ko nito hahaha, baka tadtarin ako mamaya ng messages.)