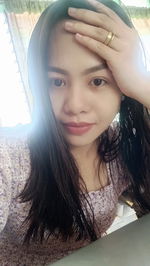 This article of mine today is written cause I was inspired with the song in Cocomelon entitled "Thank You" song. My baby is so fond in watching cocomelon and this song got my attention.
It actually should be written yesterday but something popped in my mind about 'Benefits', so I decide to write it now since I wrote about beneficial yesterday. I even laugh when Sir @Eunoia reminds me about it. So, here it goes Sir.
I'm thankful for my family
I'm thankful for my friends
I'm thankful for the things I have
The thank you's never end
This the first lyrics of the song. Same with the children singing this song, I am aslo so grateful with my family, friends and all the things I have in life even if we're not rich. To be happy is to be thankful of all things that surrounds us.
Ever since, I am thankful of my family. My parents who mold me to be a person. I can't say that I am a good person. I am good to those who were good to me. My attitude depends on how others treated me.
I am thankful with my Mom, who always understands me and my tantrums. Who always listen to my emotional dramas in life even now that I am married. I am thankful for her so much for loving my son. She may not gave me financial support but knowing that she's always there for me matters most. That I know, I have someone to talk to if I am not feeling well. After all she's my very first best friend in the world who I trusted most.
I am thankful with my father who always supports us. Who always find ways to have food in our table for our family. For being a great father to us. Maybe he's strict but his affection towards totallyhis children felt by us and so visible. For being a hard-working father to us. For building a house for us his offsprings. I still remember him working under the sun even until now. Looking at his dark skin due to heat of the sun, makes me sad. I want him to get fat together with Mama but then, how if they're not enjoying life. Reasons why I am frustrated to have work. So that I can give them things they need. I want them to experience good life while they're still alive and healthy.
It's true that we fight for some matters because of people around us especially people that we accept in our lives. But I am still thankful to them because they made me stronger to face my own challenge in life. I sometimes telling myself that it's their lives and I should focus on mine but then being an Ate or the eldest always reminds me that I should not left them behind because they're my siblings. And siblings should help hand in hand if someone needs a hand. I can't also resist the feeling of pity if I saw them having a hard time in life. So, being the eldest, I am willing to lend my help to them.
Since the day I've known him, I never thought that he'll change me and my perspective in life. Yes, I am focused to be successful when I don't know him yet but he put some spice (chooor ginisa mix lang? Hahaha) in my journey in reaching my goals. I admit we had a fight, always I think, because of my attitude but I am thankful that he have this long understanding with me. Sometimes he got mad when I cannot be controlled due to my temper. But still thankful with his patience for me. I am thankful that he's been supportive especially with my likes and interest. What I like him is that, he wants me to take care of myself. He was the one who always add to cart those dress he want to buy for me. Even my beauty products, lol. He knows a lot that I am fond with beauty products even before we have a relationship. I am thankful how he let me feel I am beautiful even if I am not. He don't want me to get fat but he always buy foods for me and our baby. I am just thankful that even how pataygutom I am , I didn't get fat.
We're now heading in reaching our goal as a family. We both have the same dream for our child but not his dream of having a grandchildren at an early age, lol. I am just thankful of him for being there for me and our baby. For supporting our needs and all.
I am thankful with my son because he let me experience of how hard yet worth it of being a mom. I am thankful that I am not 'baog' wahahaha joke. I am thankful that I able to see a smile of my own flesh and blood. I am thankful to feel proud of having him as my own. Who would have thought that I will have such a cutie that makes my day colorful as days pass. Thankful of him for giving me strength especially when I am down. That even he can't talk yet, he always reminds me to fight for our good future. Just a glance in his face, lots of dreams for us runs to my mind and I am willing to reach those for him. He gave me directions in life. That I need to focus to reach those for us.
I am thankful with my friends for being there with me when I need someone to talk. I don't actually a friend who asked financially from them cause I am ashamed. But what I am thankful so much is that I am not ashamed to tell what I feel to them. If I am with them, I listened and share of what I know. Sometimes give advice and vice versa. Having a good friend who will help you grow as a person is a total package. To have friends with same interest with you will help you hand in hand. Having a friend who will help you reach your goals and not dragged you down.
I am so thankful that I've found this platform where I can share my thoughts and feelings. Aside from that, I am learning with lots of users here who post about their goals and dreams in life that they've reached because of this platform. I am thankful with read.cash because it give me the freedom to earn. Earning BCH is the key for me to reach my goals in life for my family. I am thankful with the person behind this project especially Sir Marc De Mesel who sponsored this platform and noise.cash. I would like to extend this gratitude to him though I know he won't notice ot cause he's been bombarded with notifications. Thank you so much Sir Marc for giving me this opportunity to earn while at home and giving me the inspiration and motivated to reach my goals and dreams in life through BCH.
I am thankful with read.cash cause I found virtual friends who I learned much. Thank you so much @Eunoia @Ruffa @Jnavedan @bmjc98 @JulyAnn @Eybyoung@Olasquare @dziefem. I may not know you guys in person but I am thankful with you cause you helped me motivated everyday in reaching my goals.
*****************************
To be thankful of everything you have in this world, might small or big, makes you feel alive everyday. Thank you for feeling me alive as always.
I would like to thanks @Panky for upvoting my previous article. More blessings to come.