My advisory students made me cry.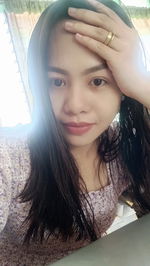 February 3, 2023
Article #4
Today is my last day of duty in school as a substitute teacher for three months. I started last November 3 and I can say that within the short period of time, I had a lot of learnings that gained while teaching students. A lot of good days but there were also bad days but then here I am, able to fulfill the said contract.
Yesterday was supposedly my last session of classes as we thought today will be the entrams. So yesterday, I've told my students, four sections of Grade 10 and one section of Grade 7 and 8 that it was my last day as their subject teacher in MAPEH. I've had received a lot of messages and thank you's from them. And all I can do was smile and be grateful. My last session of lesson was the grade 7 around 3pm. While I was in the middle of taking down the attendance, someone knock on the door and excused. They were my advisory students. They're three saying "We're sorry ma'am, but we need to disturb you because our two classmates we're having trouble and now hurting each other." Upon hearing those words, I was shocked because those two they reported were both good boys at school but then I was really worried so I told my Grade 7 to stay in the room and don't be noisy as I'll be back. We hurriedly went to my advisory room. I was half running and walking towards the room and I'm trembling especially that the three was telling me words about this and that. I told one of them to go back to my grade 7 students to look for them while I will settle the two in trouble. When we arrived at the room, I hurriedly opened the door and was about to nagged the two students that I thought was hurting each other. But....
When I was inside, I saw my students in front saying "Hi Ma'am Ynnah! This is for you!" then handed me the bouquet made of biscuits, banana chips and popcorns. They knew I like those because they said they always saw me having those as my snacks. And they sing a song while someone guide me to sit down on the chair in front of them. I was so shocked of things that happened and never able to say a word. Actually, things didn't sank in to my mind that instant as when I saw the two boys, I hurriedly pinched them. The boy 1 was holding a cake while the other was laughing hard. While doing that they were laughing while singing. Some of them were crying and I'm really touch. I can see in their eyes how emotional they were that made my heart fell and full of happiness. My first Babies after I graduated in college. A short period of time being with them standing as their mother and sister for the three months. I was holding my tears as I don't want to cry. But when Angela started her message for me while crying, I can stop myself but cried too and she gave me a hug. And then, one of the funny and jolly student was JM, she/he is a gay who was facing the blackboard but we saw how the board gets wet because of his tears. She/he then suddenly went to me and hugged me saying she/he'll miss me. After giving her/his message I can't stop myself to cry a lot. And then JP went to my side holding the cake and give his message. I was really touched especially when he says about me scolding them to let them realized what a student must do and their responsibilities. I thought they have grudge at me because I scolded them Everytime I've seen them done things which was not appropriate. When it was my time to give a message, I told them how grateful I am as they put in their minds and hearts why I need to say things to them to enlightened their minds. They said that my way of scolding them was different from others. They said that I scold them but not in a way that they will feel mistreated and looked down, instead they said I'm telling them the words they need to hear and they'll surely bring and impart it also, well I really hope so.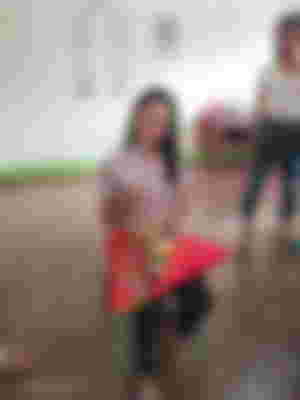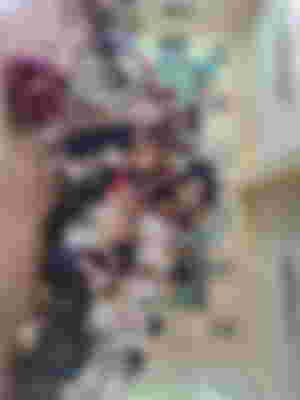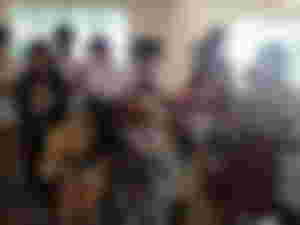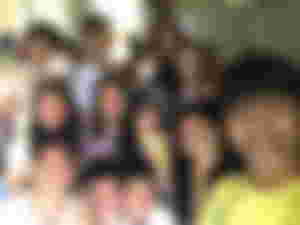 I never thought that they'll do such effort.t it was really my first time to be pranked and for me it was the best pranked that happened to me. I never thought that I able to touched their hearts through my words. Since before, I was asking myself if I will be a good teacher in the future. And if I can handle them well. But yesterday, they made me realize that I able to be a good person and mold someone to better.
They kept saying that they'll pray for me to be hired in their school as they want me to be there teacher once they will be a senior high school next school year. So far, my advisory were the one whom I am not stressed with regards to academic and attitude, maybe because they're in the special program. Unlike in regular class which were composed of different status in life and some were hardheaded. But despite of those differences, they let me feel how grateful they were of me being their teacher. I really hope that they'll put in their minds the advices I had given them. I will surely miss these children. And I know, bright future will be on their way as they walked forward to their dreams.
That's all everyone, thank you for reading my post today.