How fast time changes.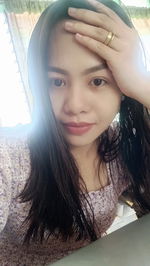 February 1, 2023
Article #3
It was raining here in our place almost every day. And today, the classes were suspended since NDRRMC alerted for we were under orange rainfall. So, here I am in our house cleaning and done household chores.
My substitute teaching will end this February, it means that I'll be a full time mom again and will stay at home the whole day and don't have a salary to wait every end of the month. I was a substitute teacher for three months. To be honest it helps us to pay our loans though will not be fully paid. As much as we don't want to have loans last year, we didn't able to do it since our budget for the house wasn't enough due to price hiked of the materials needed. But at least, I am thankful that I able to help my partner with regards to our needs especially for our son. It's just that I can't stop my self to worry over everything especially when my son were out of milk and diapers. My husband's salary isn't enough as he have a siblings to support (studies) and my salary were always late which we need to borrow for our necessities. Just like today, my son don't have milk already, I mean his milk will be enough until tomorrow morning. We don't know where to borrow this time as my salary will be on February 17 same with my partner's which will happen on February 15. The struggle we had started last year when we decided to make our house. It's like we were tested if we will continue to build our home because we really had been through a lot just to live on our own house. Yes, we were now living in our little home for almost 10 months and will be celebrating our first year here on May. We were so much grateful despite the struggle we been through because for us it's our best decision to lend our money in building our own house than renting a house which cost high.
What I'm thinking today was that the life we had last 2021 was really different with our 2022 and 2023. Last November 2021, we started to build our house from my earnings here in readcash and trading in metamask. I and my partner decided to try our best in trading with tokens that earns BCH and we able to have our own house now. Though not fully furnished but at least were living on our own. And we can say we have our own.
Just a bit sad because when we don't have yet our house built, we have savings and we were not struggling and thinking where to get money to buy our needs especially for our son's needs because I have read.cash earnings which supports us. That means my partner's salary will be our savings that time since my earnings here was big enough for our daily needs. The reason that we decided to built a house because we knew that money will easily be gone without us noticing what we had bought.
The life had switches. Before, we can buy things we want and foods we crave but now, we need to budget and all. We struggled a lot and honestly I cried a lot. I am happy that we had our house but I can't stop myself asked what if we didn't built our house and just saved our money. But then again, another side of me telling me that it was a best choice because at least I have something to see up until now the remembrance I've got from grinding and making myself earn in a platform like this.
I just missed the old days when this platform helped us not to feel hungry and saved us a lot in our daily needs. The reason that I will always come back in here as this platform and BCH helped me and my family a lot. Though, the platform now will not save us just like before but at least the connection with virtual friends we encountered here is still here. Hopefully, the platform will be as alive as before. Time may change and we might felt tired yet we still have this so called home "Read.cash".
I and my partner accept the struggle now coz we believe that someday the day will come we will be living just the way what had read.cash taught and let us experienced before.
For now, I am looking for another opportunity online , like freelancing, because I've heard there will be no giving of appointments for new items (teaching position) and same with substitute teachers, that's why I need to find another ways to earn while at home. I even thinking to sell sweets at school so that at least I have earnings. I just need to look for a capital for it. Hopefully, my salary will be enough coz you know, it will be use for paying our borrowed money, lol. Life really sometimes sucks but anyway that's life. Sometimes, there will be downs and ups. We just need to fight the struggle we've been through and keep forward while not losing faith.
So, that's all for today every one. Have a nice day. 🤗