Count the 🚲 Bikes
Count bicycles on the photograph… If only you can 😁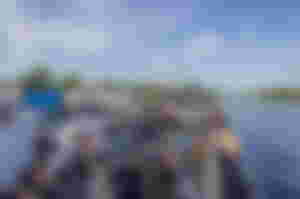 This is a ferry we used to cross Volga a while ago. It took about half an hour to cross the river, which is really not that long.
But now the rules have changed 🚳 and cyclists ain't welcome any more.
Just a unique historical (taken in 2014) picture for you to enjoy.
And do you love cycling and maybe traveling on a bike?
***
An ordinary runner can be faster than a bicyclist when pedaling against a strong wind:
***
The photograph, video, and all the text are my own. Copyright (C) 2022 Valerian Kadyshev.