Hello wonderful people of read and nosie dot cash i hope you all have a wonderful weekend like mine and I want to flex how happy I am. This week was amazing for me because hubby asked me if I could accompany him because he is renewing his drivers license at first I hesitate to come with him because our motorcycle annoys me it's kinda loud and the way hubby drives makes me nervous. After he got home from Manila he told me to get ready but I told him to rest because he hasn't sleep but he told he want to settle it now so our journey begins.
Sponsors of UsagiGallardo215
Before we proceed I want to extend my greetings and appreciation with my dearest sponsors @Carewind @MommySwag @Talecharm @joydigitalsolutions and most specially to the @TheRandomRewarder To my commentors, readers and upvoters let's keep the fire burning.
🌙
Our road trip start of course with our safety helmet and prayer while we rode at 10 kilometers and we reached our destination with no traffic but there was mud at our way and I thought I was going to let go of him because it's was slippery so he told me to hold on tight. I was shocked by the way hubby drive he was gentle and I lot of motorcycles had over take at us. As we arrived at our destination he left me outside because either I don't want to come, after he got back he brought a form he told me to fill it up but we were both surprised because as I writing his name my hands are shaking and I couldn't help it. He asks me what's wrong? Why are you shaking
I told him either I don't know why, but I noticed this after I had my painful operation which is cesarean section with ligation. At first I thought I was okay but months gone passing by I noticed I was shaking specially when I'm tired and still need to do things. I also got thinner and sometimes I got annoyed in my own face because I can't see my cheeks. Back to the form so I was shaking I instruct my husband where to write the details then he left me again, I saw the young men leaving so I thought there already finished so I asked them what time did you arrived? They told me early eight in the morning but it was already 11 that time. I thought hubbys gonna take that long so I just wait him to come outside
After 20 or 30 minutes hubby told me that the machine there was broken so he was advised to go to their another branch it's an 18 kilometer road trip again. After we got to the Mall we were told that the LTO was located at the fourth floor then we went upstairs through escalators luckily theres no long line, so hubby instantly gave the important documents and that's it several minutes later we were done.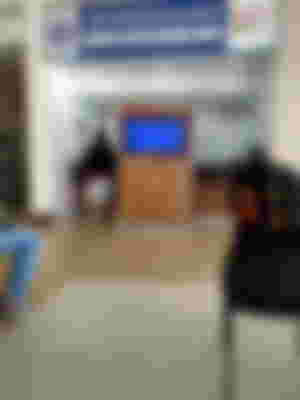 We want to go home because we were both hungry and because of the payment we can't eat lunch here he just bought a 2.4 kilo milk for our baby worth $21. And another 13.6 kilometers road trip and our journey is getting hotter and hotter he was driving when I noticed he hold my hand and told me put it inside his Jacket because it will burn. After we got home we eat together my daughter cooked for us and because hubby haven't sleep till last night he was tired and fell asleep.
After he waked up he went to his friends and late night he come home and told me, mommy your going with me tomorrow night we will be having a buddle fight and I told him I don't want to come because I'm so shy but he said you'll come because without you it will be cancelled! In my surprised I told hubby; Daddy look at me I'm different now I can't faced your friends now. But he said they don't care how you looked now I'm still proud of you His friend also message me, Mars please come with Pare Minsan lang to; Ang Hina ko pala sayo I told him, important is I didn't made any promises with you guys.
We planned to bring our daughter with us but the lightning suddenly appear in I thought it was cancelled but hubby said it's still resume so we went there and its not that far. I wasn't the one who took this picture but this is our food and I enjoyed eating with them.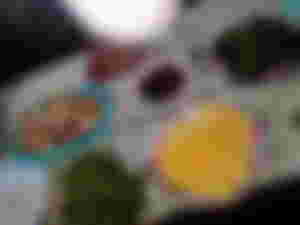 Later I heard they were drinking so I thought boys will only drink but I never thought we were going to drink also. I was inside watching Tv then they called me then the gin was already prepared it has mixed up with an orange juice I already drink before but it was a Long time ago. Good that we have separate glass so I'm not forced to drink but later they bought beer and it was flavored with lemon and I liked but I often pee and pee.
Here we are while eating I was the on the back wearing plain black I was thin my insecurities are firing up. My friend was singing she asked me too but I was shy but later hubby cheered me then I was singing but nervous, my second song hubby's friend asked me, are you joining a singing Contest? I answered no po, I was shocked and overwhelmed by his question but to tell you the truth I really loved singing it makes my stress sway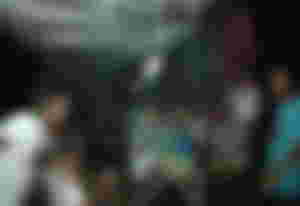 There's my husband he take off his sando and good that my face hide by those wires. We got home before 12 in the midnight I was really worried by the kids but only the eldest second and youngest are are in the house the third one was on my sister in-law. Hubby told me to enjoy and relax he really set it up by dinner because he know I had a lot of work to do in the morning.
🌙
Thank you so much for listening in my today's blog and I hope you enjoy
Love, UsagiGallardo15 🌙
Lead image source