OUT of the garden of Eden, Adam and Eve had to work hard to eat. Instead of tasty fruits, they found thorns and thistles. Because Adam and Eve disobeyed God, he was no longer their friend.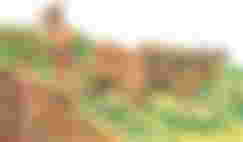 Adam and his son worked hard But worse than that, Adam and Eve were destined to die. Didn't God say they would die if they ate the fruit from a tree? So, the day they ate, they began to die. All the children of Adam and Eve were born after God cast them out of the garden of Eden.
This means that their future children will grow old and die. If only Adam and Eve had obeyed Jehovah, their lives and their children would have been happy. No one will grow old, get sick and die.
God wants people to be happy, and he promises that the day will come when it will be the same. All will be friends of God. And the whole earth will be beautiful.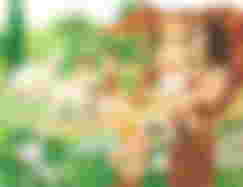 But Eve was no longer God's friend. So she had great difficulty in giving birth. One can be very difficult when he disobeys God, right? Adam and Eve had many children. Their eldest son was named Cain. The second son was Abel. Do you know what happened to them?
Genesis 3: 16-23; 4: 1, 2; Revelation 21: 3, 4
Genesis 3: 16-23
16 Then he said to her: "I will greatly increase the pain of your pregnancy; you will have difficulties in childbirth, and your desire for your husband will be great, and he will lead you. " 17 And he said to Adam: * "Although I commanded you, 'You must not eat from the tree,' you would still listen to your wife and eat it; so curse the earth for your sake.b All the days of your life you will suffer before you can get fruit from it. * c 18 It will grow weeds and thorny plants, and you will eat the crop in the field. 19 You sweat and suffer before you get food until you return to the ground, for which you were taken. You are dust, so to dust you will return. "E 20 After that, Adam named his wife Eve, * because she would become the mother of all humans. * F 21 And Adam and his wife were created by Jehovah God with long robes made of animal skin. wear them.g 22 Then Jehovah God said: "Man has become like us knowing good and bad.h And now, that he may not take of the fruit of the tree of life and eat it and live forever, * - "23 Therefore, Jehovah God threw him out of the garden of Edenj to take possession of the land from which he was taken.
Genesis 4: 1, 2
4 And Adam had intercourse with his wife, Eve, and she became pregnant.a When Eve gave birth to Cain, she said: "I have begotten a son with the help of Jehovah." 2 Then she gave birth to her brother Abel.c Abel became a shepherd, but Cain became a farmer.
Revelation 21: 3, 4
3 Then I heard a loud voice from the throne say: "Look! The tent of God is upon mankind, and he will dwell with them, and they will be his people. And God Himself shall take them.a 4 And he shall wipe away every tear from their eyes, and death shall be no more, neither shall mourning nor outcry nor pain be anymore. The former things have passed away. "