A Film of Small People
I mean, have you got an encounter with a dwarf person? In our locality, I see a dwarf person almost every day. His height is hardly two and a half feet. He works in a roadside snacks shop. He is so energetic. I can never beat him while walking on the road. He is so fast in walking.
The dwarf person walks fast with a bucket full of water. I always try to compete but fall behind him with my fastest possible walking speed!
Whenever I ask him, "Why are you walking so fast, man?" He looks at me and gives a shy smile. One day, I will get some time and have a date with this special person. I will write about him another day.
---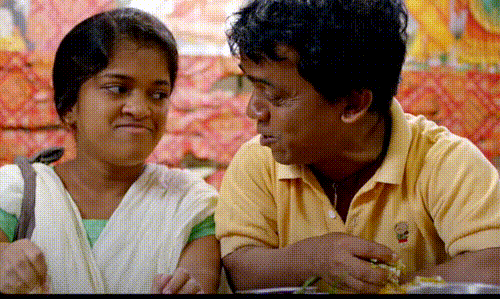 Graphics: An animated GIF created from "Khelna Bati Ranna | Chotoder Chobi | Indraadip Dasgupta | Anupam Roy | Kaushik Ganguly ."
Today, I will share a Bengali language film about small people with you. The title of the film is "Chhotoder Chobi" (A story about small people). The film was released on January 23, 2015. Somehow, I missed watching the film in a movie theatre at that time. Finally, I watched it yesterday.
Although "Chotoder" in Bengali means "belong to the children," the name of the film "Chotoder Chobi" implies the story of the small people or the dwarfs.
The film had received the best feature film in the Goa international film festival in 2014. Its actor Dulal Sarkar received the Silver Peacock Best Actor Award (Male) In the International Competition Section - IFFI Goa 2014, India, for portraying the role of Khoka. The story and direction of the film "Chotoder Chobi" are by Kaushik Ganguly.
---
The story starts with a circus show. The background music hinted at a shadow of the old Raj Kapoor film "Mere Naam Joker" song "Jeena Yahan, Marna Yahan."
Video: Chotoder Chobi - A Short Story -Theatrical Trailer.
It showed vignettes of a typical circus show - the cycling, balancing act, and trapeze. As usual, it showed a joker artist (Shibu) taking part in the trapeze.
During the trapeze stunts, the Shibu was shown to miss the hold of the undulating trapeze rod and fell on the safety net. One of the metallic poles of the safety net broke, and the Shibu fell to the ground. Shibu got a fatal injury in the hip bones, lost the power to move, and got restricted to bed.
The circus manager didn't give adequate compensation to cover Shibu's treatment costs. Shibu couldn't bear the trauma of a massive loan for his medical treatment bills and committed suicide.
---
Shibu's colleague, another joker artist (Khoka), protested against the injustice and left his circus job. Khoka took full responsibility for the poverty-stricken Shibu's dwarf family.
The social apathy and poverty bring Khoka and Shibu's only daughter, Soma, close, also a dwarf and works as a hawker in local trains.
Love blooms for Soma and Khoka. But, Soma was in a dilemma to marry Khoka and start a family because Soma was worrying about the future generation - if their offspring would also become dwarfs!
The film ended with a happy note showing a friendship between Khoka and Soma. The film extends a broad message about the dwarfs who face physiological dwarfism due to no fault of theirs.
---
Kaushik expressed his feelings about the small people. Kaushik said he felt a deep satisfaction in making the film which could depict the lives of the dwarf people, their daily problems, friendship and relationship, family, love, and many things.
The main point is being broad in mind about all other human beings with normal and special physiological conditions, and physical abilities.
Most actors in this film are not professional actors. They gave the director complete freedom to interact and authentically express their lives as truthfully as possible. The director hoped that the perception of the people towards our dwarf friends would improve after watching the film.
---
The film portrayed the little people's lives authentically and simplistically.

Although most are not regular actors, they played their roles almost like professionals.

Screenplay, dialogues, and direction are superb.

Background music is so naturally added. The music director, Indradeep Dasgupta did a remarkable job. I noticed that some parts of the background score had been recorded in London and were performed by international instrumentalists.

The film ended with a long-lasting friendship between two humans.

The film "Chotoder Chobi" inspired me to talk to my fellow citizen I meet almost every day on the street of Kolkata.

I strongly recommend this film for lovers of humanity and life. You will get the film with an English sub-title on many platforms.
---
I have searched for the dwarf actors in this film. I could get information only about Dulal Sarkar, who received the best actor award.

The female lead actor Deblina Roy also delivered a brilliant performance. She could have also received an award as a best-supporting actor.

Dulal Sarkar got celebrity status for a few months after receiving the award. The ministers congratulated him. But, he didn't get much work after it.

I saw a news report that Dulal has been living a very humble life without any regular earnings. He wants to work in any industry and sector. I guess the other dwarf actors also don't have any regular work.

May the government create employment opportunities for the dwarfs?
---
I am from Science, Technology, Engineering, and Mathematics (STEM) field. I have secretly added, "Arts" and "Fine Art" to my interests. So, now my interests become STEAM - Science, Technology, Engineering, Arts, and Mathematics.
I like to create solutions for password and cybersecurity relevant to the blockchain, cryptocurrency, and other block-less distributed ledgers.
Here, I also created the following writing communities:
Thanks to all my sponsors, whose names appear in the "Sponsor" pannel.
I hope all members of the blogging community strive here and elsewhere.
---
Cheers!
Text Copyright: Unity
Lead Image: An animated GIF created from "Khelna Bati Ranna | Chotoder Chobi | Indraadip Dasgupta | Anupam Roy | Kaushik Ganguly ."
All other graphics and videos are credited just below it.
Disclaimer: All texts are mine and original. Any similarity and resemblance to any other content are purely accidental. The article is not advice for life, career, business, or investment. Do your research before adopting any options.
Unite and Empower Humanity.
I am also on Noise.Cash ... click the link if you are there.
#Film #Movie #Bengali #India #UnityBlog
March 12, 2022.