Spring Season Is It The Best?
Many lovely seasons to choose yet I choose you. My dear Spring what to say about you, You have all the positivity which humans need in life.
Don't worry I won't bore you with a Wikipedia like post.
After chilly Winter we get a windy season named Spring. The season is known for showing us the true beauty of our flora where plants and flowers are at the peak of their beauty.
Not only that this season is a Re-loving season where flora rebirth, rejuvenates resurrect and regrowth lol lots of rewords there.
And here are some interesting things to know about Spring:-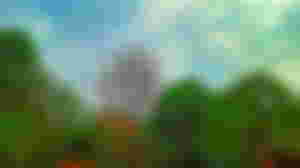 In spring you may have noticed a completely dead looking tree without any leaves but just after a week if you visit that tree you will see that it gets completely reborn as new isn't this amazing.
Not to mention you notice lots of pretty flowers bloom during this time. Also, we get to see the heavenly Cheery Blossoms how can anyone ignore them!
In my place some of us people even celebrate a festival on the first day of Spring named as 'Falgun' Festival. Also, India's most famous festival 'Holi', Festival Of Colors is celebrated at the start of the Spring season only. And guys I am eagerly waiting for this festival.

Best time to travel during this season as the temperature is neither high nor low and even the winds blow during this time. The best locations during this time according to me would be destinations with nature and beaches.

Due to flowers blooming you can also meet lots of pretty butterflies and moths in gardens along with bees, Beware a bit while enjoying pretty flowers. Also, the fauna becomes a lot active in this season as if they also want to enjoy nature's beauty. You can see lots of different species of birds during this time which you don't see in the whole year.

This is the time many of our photographers shine as they took beautiful shots of flora like me lol. Want to start photography, try in this season only!
Not everyone around the globe experiences springs at the same time. In my place, it's showing it will come in the last week of March and end in the last week of June probably talking about the whole Northern hemisphere. Also, an interesting fact is when Northern Hemisphere people are experiencing Spring Southern Hemisphere one's experience Autumn haha and vice versa.
To me, it's one of the best seasons to enjoy the environment's beauty. So tell me what's your favourite one? And do you enjoy Spring season.
In my place, it falls on March only a few weeks delay that's all have happened. But never a month.
But, It's late spring in some places what could be the reason? Also there's a lot exciting things which happen in Spring which I don't know. Feel free to share it with me about them.
Note :- All Photos are taken by me, No Copyrights Allowed.