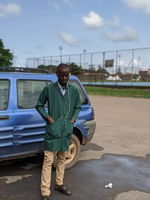 As I'm new to this platform, I have been reading and getting the feeling of the whole ecosystem. One of the things I've done to notice is that there are some traditions on this platform such as, contests, raffles, prompts, challenges, monthly/achievement reports, as well as setting of goals for the new month. I love some of these and I hope to participate in some as well go, but as of now, even though it's late, I would love to also set goals for this month. My goals for this month under the following sub-headings include :
1. Subscribers: Going through the profile of some authors on the platform, I can see some people with such high number of subscribers, such as @Jane, @Bloghound, @tired_momma , @King_Gozie , @Fexonice1 , @FarmGirl , @HappyBoy , @PVMihalache , @Olasquare, @Princessbusayo . I'm quite amazed how they managed to achieve such huge figures, it's just something else really.
I, on the other hand will be moderate in my ways as I know fully well I'm no where near any of these people, even though I take their achievements to be inspiration and motivation to me. So, for subscribers, I'm going to set my goal at a reasonable figure of twenty five. Maybe I can achieve and surpass it, maybe not, but I certainly hope so. This is why I'm going to do my best to write quality articles, so as to constantly make sure your time spent reading my articles is not a waste.
2. Sponsors: I can see authors with a completely filled sponsor block and more even and I've got to say I'm sure impressed how they managed that. That also tells me their articles are quality articles and they are good writers for them to have attracted that much sponsors. I hope to be like these people, Even though I know this will take time. I'm setting my goal here at five sponsors. Hopefully I can achieve this with the support of the wonderful people of this platform.
3. Sponsorship: Maybe I'm a bit in over my head here, I don't know, but I would also like to sponsor a few new writers on the platform as I know this will go a long way to encourage these newcomers and make them feel welcomed on this platform. I don't know if I will be able to achieve this at all, but a guy can hope. I'm aiming to sponsor at least three new writers by the end of the month, and I'm sure with your support, I'll be able to spread some of those support to these new authors like myself.
4. Number of Articles: I see people on this platform who wrote one article per day for the past month and some who wrote upwards of 20+ articles and that's really great. There are those who would say this is too much for a beginner like myself but what it has been said 'aim for the moon, if you fail, you'll fall within the stars', so I guess I can aim for that and if I get it, great, if I don't, well I'll see. So for this, I'm putting it at one article a day. I'm sure your continual engagement with my articles will definitely serve as motivation for me to constantly try to achieve this goal.
5. Earnings: Been new to the platform, I don't really think it wise to be setting goals for earnings, but I'm just going to close my heart, cross my fingers and hope for the vest with regard to earnings. Don't get me wrong, it's not like I expect to get nothing, but been new, nothing is certain for me and if I'm to set a minimal earning goal and it's not meant, it would be bad for my morale and I don't want that.
With all this stated, you can tell that I've kept my goals modest and reasonable. Are they achievable? I don't know, but it's worth giving it a try. I'm resting on the support of the wonderful people of this platform and I know with you guys behind me, I can achieve and maybe, just maybe surpass these goals.