New interface of readcash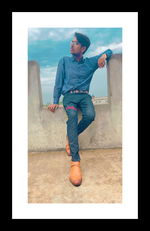 I hope everyone is enjoying reading and writing on readcash. I was super busy with different stuff at home and at worksite. That's why I was not able to come up with any article on readcash. Well, I was posting but most of them were my posts from ecency hive.
__________________________
From so many days, I had pressing urge to talk about readcash new interface.
Well, yesterday when I popped into readcash. I was astonished by seeing the interface of readcash. It was really shocking and surprising in the same minute. I was totally like_Ah_ what is this happening with readcash? Am I going in some corner? Are they again removing random rewarder? There were so many questions in my mind.
Couple of days back I was unable to do comment on post of other users. Comments are usually integral part for Interaction between users. Comments also play an important role in motivation. We can appreciate a person's effort by comments we can also send them best wishes for their work and for their achievements. Comments are the feedback for their service/product/work. I am using read cash on mobile so comment option was not available for me. I was thinking that might I have violated any rule and in return they have disabled my comments,But I was curious about it.
I inquired other users. At first, I posted a short post on noise app and @ScarletDoll@ScarletDoll responded that; some users are in the same situation. So, this comment made me relax that not just me there are other people also.
Afterward, I called my friend @lovelytea@lovelytea and asked her that do you have comment option on read cash?
She replied; yes I have.
Again I questioned; you can post comment on other users post?
She replied; yes, yes. But, what happened?
I told her, that I am unable to see my comment section and also I cannot comment on other user's posts. She asked; on which device are you running read cash?
I replied; I am using on mobile.
She further included: that could be the reason , by the way I am using readcash on laptop.
After that, I concluded that might my mobile could be the reason. I should use laptop for readcash. Again the same day I received comment on read cash and the addresses the same issue.
There are so many users who are using read cash on mobile. I also read some post addressing the issue of upvotes and comments. Personally I am also finding difficulty as I don't have any laptop. For interaction I really want to make comment but I am unable to do. I really have request from developers of read cash to at least add the comment section in mobile version also. So that for all of the users it become accessible and easy to use. On the whole, there is no such problem with new interface. In the and I really want to add that the previous interface of read cash was pretty much easy for most of the users.
Thanks.