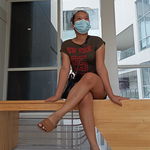 Hello everyone. It's another day and another blessing from God.
Im here again to tackle something on how my day goes.
I know Im not a teenager anymore, so there's a lot of duties that I need to do, since I am now a mother. As usual I woke up so early in the morning everyday,and the first thing that I do is to fix our messy bed, then prepare a cup of milk for my little one. Of course we have to take a breakfast, so I will do the cooking,some for my son and for my Hubby. Some for the master,some for the dame,some for the little boy who lives down the lane.Lol just kidding.(resulta sa araw-araw na panonood ng nursery rhymes haha)
To proceed,after we eat,the next thing that I need to do is to wash the dishes. While washing the dishes I remeber that I have to go to the market to buy some goods because we're running out of stocks, and there's nothing left for my baby's snack. Then I took a halfbath (syempre di naman pwede umalis ako ng bahay na amoy kili-kili power,diba? Hahaha).
Well considering that we dont own a car,or even a motorcycle, all I can do is to take a walk, because our house is located in a far,far away land hehehe, and it takes me for about 1-5 minutes before I can arrived at the highway, then I have to wait again another minute for a jeepney.
After some minutes of staying in the super market ,I finally got home,then take some bath to avoid the virus, yes I should be very careful for my health, not only for me but for the rest of the family, because it's my responsibility to keep them safe. At lunch time,I prepare something nutritious just to keep us healthy, then do the dishes again. So after doing all the household chores, it's now time for me to spend time for my son. Taking him for a shower, giving him some snacks, and play with him.
Lastly for dinner,I did just orderd some food online, so there will be no dishes for me to clean,since I felt myself a little bit tired, and after everything I put my son to sleep so I can get rest as well. That's it, that's how I spend my whole day, and I want to leave this quote saying-
"Mother's are not the ones that have never struggled, they the ones that never give up,despite the struggles" - Sharon Jaynes-
I think that's all for today. Thank you for your time.
Keep safe everyone, and Godbless us all🙏♥️
Lead image source from Google.