My first pet
Today is Ding and Dong's birthday, I hark back to the days of childhood when I was carefree and had no worries at all. I was born in a village, who used to wander in the open fields, enjoying the natural beauty of pastures. I always had a special place for cats in my heart. At one of the corner of our house Princy (Ding and Dong's mother) gave birth to 5 little cute kittens. Princy was like neighbor's pet.
I asked my neighbors if I could have only two of the kittens they agreed, I was jumping here and there with happiness. Now I had a great task to persuade my mom to keep those little fluffy creatures but my mama didn't allow me easily so I tried another way by asking my grandma to somehow get the kittens for me. It was a difficult task because my mom had ailurophobia (fear of cats), by hook or crook I brought the kittens home with direct support of our lovely grandma who spoiled me heheheee…
Right now I can feel the excitement which I felt at that moment:)
Awww it was such an amazing and cheerful moment for me I danced in happiness from one bed to another. They changed my daily routine; now I almost spent my whole day with them, not going out to play with my friends. Every moment they stayed in my mind, I wasn't concentrating on my studies either.
Sometimes I got punished and rebuked because of these little kittens as I used to snatch their milk and drink it which scared my mom that I might get sick but my love for them was unconditional and I thought no one can take care of them better than me hehehe…
I'm going to show you how I took care of them.
I used to put my clothes on them and tried making their ponies. I'm feeling that how cute that was, aww I want to go back to that moment. They had friendship bands on their elbows and had little bells on their neck they looked dashing.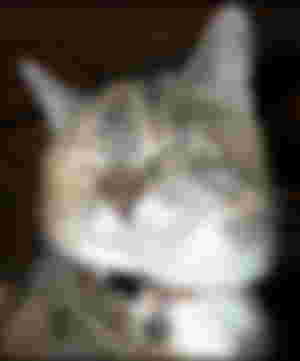 One day my mom wasn't home and I took them for a walk and on the way back home I started plucking daisy dot (flowers) suddenly I heard the little bells ringing and it hit my mind that Ding and Dong were with me, when I turned around, got stunned by looking at them who were playing in the mud. I ran toward them, abruptly picked them now my little white kitties were brown. I ran home, when my sister saw that she told me to give them a bath to make them tidy. We were kids who gave them bath with cold spring water and at that time my mom reached and saw whole drama, she ran and bought towel so they don't get too much cold and dried them and placed them near the heater as they were shivering and we got scolded by our mom.
The next day, Ding and Dong were kinda lazy so my mom took them to vet. He gave them medicine, they were recovering but Dong got severe chest infection and the prescriptions weren't helping out😢
One morning I woke up and got shocked that Dong was missing and Ding was kinda sad and sluggish, I ran and asked my mom "where is Dong?" she sadly told me "we lost Dong forever". I started crying badly and Ding came and sat in my lap which further distraught me that we both lost our closest friend 😭😭
Now Ding wasn't eating neither playing with me like before which upset me and this didn't go ignored by my parents, they got worried about me and Ding. My father bought chocolates and a doll then he explained me that it wasn't good to keep Ding here as it was alone and sad. So he decided to give it back to the neighbors as he saw I can't take good care of pets. It wasn't easy for me to let Ding go but I had to do that so Ding can stay happy. He promised when I grow up he will buy me a pet which moved me to give Ding to the Neighbors. (In my upcoming articles I will tell u the story of my another pet.)
I still celebrate Ding and Dong Birthday.
But I still have guilt in my heart about my little Dong death. ☹️
I always miss them.