Let's make it light today
Hello crazy dreamers of read cash zone, how are you all? It's Sunday Funday for some right so I was really hoping that you really enjoy the day. But no matter what circumstances you've encountered today maybe it's a good or bad one ,I just want to tell you that you still did a good job. So if you need a break, don't hesitate to give it to yourself okay? 😉
I'm so busy for the whole day because I review all the subjects for tomorrow class. Our professor is so strict and she have a policy " No recitation, No attendance" so we should always be ready to her question. I don't want to be mark as absent because of that. So I want to "make it light today", this article is only intended for sharing some of the happenings to my life for the whole January because tomorrow is the last day of the month. So, I'll just have some highlights hehe. How's your January 2022? I'm so grateful for this month because I received a lot of blessings. Hope that it also bounce to the upcoming months.
For the first week of January, my whole family including me have flu. So I guess that we welcome the new year with a not so good body and condition. And I'm the one who have a sick for the longest days which is about 9 days. I'm so really unwell that time because of my cough and cold but I can still able to do some stuffs. But it's God is so good because He didn't leaves and forget me. I'm so well right now and I can able to run as fast as I can again haha.
I also shared to you about my lucky moments in my article The Unluckiest turns into Luckiest I know some of you already know about what happened to me that time. It seems that luck and charm is also in my way that time. Until now, I can't still believe about it but I also think a way on how to utilize that money well. I want to used that money in the most profitable way hihi.
But the most surprising is the email that I received yesterday. Lately, I received so many emails but it's all good news hehe. Finally, our department released the list of the Academic Achievers for the last semester and I'm so happy that I am the who of that students. I admit that it's a rough battle for me because I experience so many downfalls and depressing moments because of tons of activities and because of some inconsiderate profs and classmates but I still achieve it. I'm happy that throughout the semester, I gain a lot of knowledge that can be my lead to my next journey.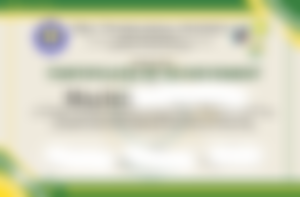 Three semesters to go and I'm gonna finished my first course. Haha I'll called it first course because after this I still planning to study again and get other course hihi. As much as possible ,I always push myself too much because this is the only thing that I can give to my Family now. I want them to be proud of me. So even it's hard, I'm still trying. I already text my siblings to make some libre but my pa-cute is not effective as they are certified kuripot like me haha. Kidding aside, they said that they are so proud of me and I'm so satisfied to hear that. I'm also happy because most of my friends and blockmates is also on the list of achievers. We really did a great job.
For now, it is some of the remarkable highlights of my January. Learnings? Realizations? I have a lot of that actually. It's really true that as we walked to a new day, there's also a new lessons and learnings that we gonna get by.
---
~~~~
Thank you dreamers for still supporting me, through my ups and downs you makes me feel that I'm not alone on my battle. I can't mention you one by one but I'm grateful to all of you. To my sponsors and readers who always showered their supports, thank you so much hihi 💛💛