Ever since I was young , I'm an avid fan of Disney Movies especially the "Aladdin". One thing that I've learned about this movie is to not be greedy. Even you met someone that can probably help you in your situation, we should not take advantage for only getting our desire. Also, I really admire the friendship between the Genie and Aladdin himself.
I always imagine that what if I met a Genie someday, what could my wishes be? If you asked me before when I am a six year old kid , my wishes will definitely be "Toys, Clothes and Food". But now that I am a 20 year old girl, my 3 wishes will be different from before. And I know that some of you has also different wishes in your mind.
But if I ever met a Genie, here's my 3 wishes:
I know that I'm not the only one wishing it. I wanna go back to our old lifestyle, were we can go somewhere and hang out with our friends without any fear and guilt that our family members might be infected if ever that we go outside our house. Now, our country or should I say the world really change a lot because of the pandemic. There is no many variants that can be a caused of this virus. I missed those days that we can go to school and go to trip. Because of the pandemic, there is so many plans and things that we want but we can't do. There is a person we want to see but we can't because of the restrictions. I know that in this situation, it's really hard to combat the virus but we should also put our hope and faith to those people who try to find cure to it. If I ever met a Genie , this will be my first wish.
I don't want to see my family and friends crying in front of me because I also end up crying. I want them to have a life without loneliness and suffering. I know that every one deserves to have that. As a person, we encountered so many challenges in our life and sometimes we should also experience how to be happy. Seeing them happy is also one of my reason to work hard to achieve my goals because they are definitely my support system in life.
Ever since I always wanted to established an orphanage for the children and elders who abandoned by their families. I often saw an elder in the street and when I asked her what she doing there she replied " I have no home because my daughter kicked me out on their house". It's really heart breaking to see a mother who sacrifice everything but end up like that because of her age. Even though that I don't met a Genie, I will definitely make this wish come true. My heart belong to those people who deserves to be loved.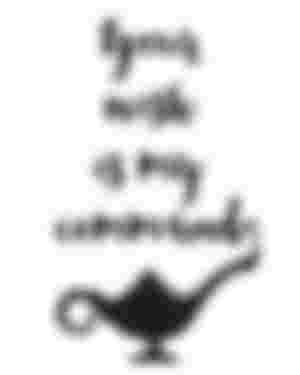 We have always have a wish that we want to be true. Some of them are for our own sake but I believe that most of our wishes in our mind is for our love ones. It's not bad to have our own desire in life but as life goes on, we should also put our effort to achieve them. It's so amazing if we can really have a Genie in our life but we all know that it is also an imaginative thing so hard work is really need. Be the own Genie in your life that can give your wished do come true. I know that it's not impossible to achieve that in the right time. Life is really magical but we should also find the real behind it.