According to Gossipers, I have a Sugar Daddy
Good evening dreamers!! How's your Thursday? Despite on the accident or challenges you've encountered today, I hope that you are still well today. That you are able to rest or take some breath somehow. Don't overworked yourself, prioritize your health because I've already know how can you suffer when you have sick. So be healthy always.
---
" Baby girl, you are popular now here in our area".
That is the exact word that I received to my close friend there in province. She is also our not so close neighbor that's why she is aware what is the latest in our province. I thought that it is because of my health condition. Even that I only said to her and to my family, maybe they also already knew about it. I don't have a problem of they know about my condition as long as it is the real thing but sometimes if they know, they make it so exagge. I remember that we have another neighbor that rush on the hospital because she vomits then when she comeback, she was surprise because the gossipers spread that she is pregnant when in fact she is only experiencing nausea. Then I interrogate her why I am famous headline there in our province.
Honestly, I'm a bit nervous because she took so long to respond. It indicates that she is typing and I guess she replied a long message but when I read the message, I laughing out loud. " The gossipers here said that you have a sugar daddy hahahaha". I immediately called her because it is interesting to know the whole story about that. But of course, we end up laughing and laughing hahah. How could they think about such thing?
So here's the thing, one of the Marites go to our house and they found out that some of the animals there in our farm was owned by me. I already write on this article " Ill-never-leave-read-cash-because-it-allow-me-to-own-this-things" that I invest my earnings here to buy some farm animals. That specific gossiper is my Auntie and I guess she is the one who started create that story. Maybe she thinks that I'm only mere student and how can I earn money if I only stay at home mostly in the four corners of my room. Is it my fault that I find ways to earn some penny to support and to save. I even shared to them about this platform but they doubt and thought that it is a scam and I am a scammer. Read cash is totally free except for our hardwork and efforts so how could it possibly to be a scam? If it is not really my Auntie, I will talked back to her but it's a bad attitude and maybe she will label me a bad manner so I just shut my mouth. Baka din sabihin na may nabili lang ako, masyado na akong nagmamalaki.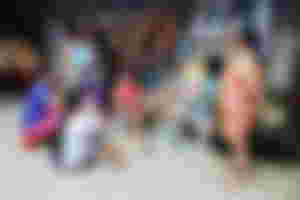 From that afternoon, the news spread about that investment of mine and the source where I get it. But wait, she put some plot twist to it because she didn't reveal my real source of money but instead she told that I have a sugar daddy. I am disappointed but I am also laughing because of that hahaha. Me and my friend talked for almost an hour and we laughed and laughed because of that. If my Mom will know, for sure she will get mad on her step sister but I said to her that calm herself because we know what's the real tea. Tsaka ayoko na ma-stress, masyado na akong quota sa stress because of my health so let them spread fake news because at the end, the truth reveal itself.
I'm in the mood to tease someone today so I eat buy some candies and post it to myday with a caption " Sugar Daddy ft. Sweet treats". Most of my friends send a haha reaction because they know that I don't have a guts to have a sugar daddy. I am contented on what I received now and I can say that I can support myself somehow. Jusko instead of sugar Daddy, for sure I will be looking for a regular work if I really need to". I just can't really understand why gossipers always want to create a story based on their opinions. I guess they would be a great writer of ever because they can easily add a twist to the story of their neighbors.
How about you, what is the latest news that a gossipers spread about you? Are you also just keep your mouth zip or you confronted them right away? I believe that there's a right time to do that because sometimes when we immediately confronted them, bigla nilang babaliktadin yung situation and the end,another story will be created about you. But if you know that it's already too much, go on and talked to them and slap them with the fact.
---
Thanks dreamers for your warmest support to me from day 1 until today. It's been a year since my first landed here but your support never change and you are one of the biggest part of my success here. Thank you also to my sponsors, readers and commenters for staying at my side. Have a peaceful night dreamers!!🧡