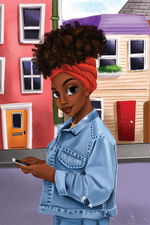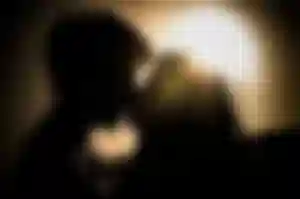 Sandra has been a shy girl, she finds it difficult to associate herself with people, to the extent that she could not look at someone face when talking, just to describe her less, she could be as good as a shy model 🤣
Sandra never stops from her shyness, this makes her resist any Guy that comes after her, she always finds it difficult to face them to talk with them.
" Come on, you're are no longer a kid, at this age, you don't have anyone you could call a boyfriend" her friend Cynthia will always scold her.
Cynthia was Sandra's only friend right from her secondary school days, but Cynthia was not as shy as she was, she will always tell Sandra to have courage, but it seems she's getting worse every day by day.
One faithful day, Sandra and Cynthia went to a nearby restaurant to eat their dinner, just to have a little fun, as they were together at the restaurant, a young and handsome good looking guy just walk up to them, he was attracted with Sandra beauty, he approached them " hey beautiful ladies, I'm sorry for disturbing you, hemmmm..... please I would like to have a little talk with your friend" pointing at Sandra. Sandra was not convenient anymore, " hemmm.....I will be very happy if my request will be granted" by that time, Sandra was pinching Cynthia not to stand up, but she turned a deaf ear to her, " oh! There's no problem, you are free to talk with her" Cynthia excused herself to sit in another chair.
Then the guy sat close to Sandra, he face Sandra, but she was looking elsewhere " hemmm..... sorry for disturbing you, but anyway, I'm Leo - Mathias by name, please can I know yours?" " I'm Sandra - Gregory ", " wow what a lovely name for a beautiful lady like you" Leo exclaimed. By then Sandra was not convenient anymore, while she was rubbing and twisting her fingers with each other, she was just hoping that the discussion should end, but Leo continued further, " please can you give me your digit, because I will like to talk to you some other time" at first she feels reluctant to give him, but she gave him at the end. " #sigh... it's my pleasure meeting you" said Leo, they both shook hands together, and off he went.
Sandra took in a deep breath after Leo has left, just seems as if she has just been free from bondage, just then Cynthia came over to her where she was sitting. " Why did you have to stand up when the Guy came" Sandra exclaimed, by then Cynthia have been laughing and making Gest of her, " hahaha 😂, so why are you sweating? After all everywhere is cool, just to talk with a guy, and you're sweating under A.C ... hahaha..🤣, can't stop laughing" Sandra feel remorse, and she kept mute throughout that day.
Just to cut the whole story short, Sandra and Leo Haven been having affair with each other, but Sandra was still the shy girl she was, she always find it difficult to face Leo when talking, but that doesn't bother him, because he has got to understand her too well.
One day Leo told Sandra that he will be going to a night party, and he could like her to follow him, alongside with her friend Cynthia, but Sandra rejected the offer, but after much conviction from her Friend, she agreed to follow him.
She wore a red gown with shining materials on it, while her Friend Cynthia wore a wine gown with a shinning design on it. Leo was sitting beside Sandra at the party, They both had a toast together, and after that, Leo said" let's have a dance together, she was very shy to stand up, just then her friend move closer to her and whisper to her ear, " come on, Don't be shy".
She manage to stand up, they both went to the dancing floor, the music went so high, all eyes were on them, shyness was writing all over Sandra. They began the dance, Leo held her by the waist, holding her Left hand, and they both move to the left and right.
Suddenly the music stopped, Leo was kneeling in front of Sandra already" please will you marry me" Sandra was so astonished, everywhere was silent, that a sound of a pin will be heard if it falls, Leo's heart was beating so fast, he was afraid that she might decline the proposal. Sandra breaks the silence " yes I will marry you" everywhere was burst with music with applause.
Leo was so happy, he move closer and held her so soft, they both kissed each other until they were lost in emotion.
OMG! 🙀
Curtain fade out.
Thanks for reading
I'm sorry that I've not been visiting your posts as of recent, I'm still writting exam, please bear with me , pending the time it will be over, but I will still try my best to reach to some posts. I cannot but appreciate my suscribers for your supports, you're always in my mind, and for my sponsors and to everyone who keep checking on me... Love you all to the moon and back to read.cash😍
My loving sponsors, Don't forget to check their blogs.