Thanksgiving for Educators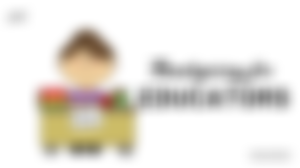 October 5,2022
Five days into October already? Time is flying by faster than ever, so we'd better step up our game if we want to make it to the finish line.
There should be a celebration today in honor of all those whose lives have been devoted to spreading knowledge. I shudder to think how information would be passed on from one generation to the next if they didn't exist.
Exactly who are these individuals, then?
Before I go any further, I just wanted to take a moment to show my appreciation to all of my supporters, including my sponsors, subscribers, upvoters, friends, and readers.

I count it as a great blessing that I was able to find you all; gratitude fills my heart.

You should read some of their work because they are all really good authors.
The reason I refer to them as heroes is because of the profound impact they have had on every generation. They may not always provide everything you need, leaving you to rely on the groundwork they've set for your future growth.
If you agree with me that you and I might not be here if we hadn't gone through any sort of education in life, then we'd both agree that education is important, even though it doesn't guarantee success but it offers us the platform to take on many opportunities that life might come our way.
Before I continue, there's something I want to make sure we all get. Our parents provided us with the foundational, first-hand information we lacked before we could ever consider enrolling in a formal educational program, therefore it would be inaccurate to say that only our school teachers qualify as our "teachers."
I'd like to take this time to wish all the teachers that contribute to our site a joyous Teacher Appreciation Day.
Everyone's parents: You're awesome. I appreciate you taking the time to read this. Tomorrow, we'll meet up again.
Join me at:
Noise, Read Cash, Hive, noise.app
Disclaimer:All texts are mine and original, as stated. Any resemblance to other content is entirely coincidental, as is any similarity.
Copyright © 2022 JHT — All Rights Reserved