Cheat codes on Exam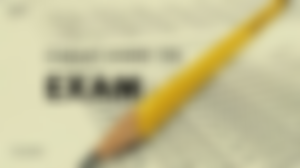 November 7,2022
My examinations are rapidly approaching, and I am frantically running around like a headless chicken trying to cram as much information into my brain as possible in the short amount of time I have available, which is, of course, impossible. But there are several strategies that have helped me get good grades on tests despite having a very little amount of time to study for them. This is because I am the type of person who believes in working smarter, rather than harder. Hehe
So, here are some suggestions that have been quite useful to me as I have rushed to prepare for upcoming exams:
One, Draw a Flowchart and Schedule
When I begin studying for examinations, the first thing I do is develop a chart listing all of my courses and the themes and sub-topics I need to learn for each. Once I'm satisfied that I've covered all the bases on the chart, I make a study schedule for myself, prioritizing the topics I anticipate needing the most time and effort and placing those I anticipate being less challenging later.
If I have 9 topics to study and around two weeks till my examinations, I'll give myself two days for each. In contrast, if I believe that I do not need to devote a lot of time to studying for a certain topic and that I can easily cover it in a single day, I will instead devote that day's study time to a different topic that I anticipate will be more challenging and will take more time from me. This helps me have a better sense of what I need to complete and when, and it also keeps me from randomly selecting a topic from any area to study.
Two, Plan Ahead
Create a list of specific study objectives. So, let me explain what I mean. Here's why: When I sit down to study, I choose a certain number of topics from my chart, set a time limit for myself, and then mark each item I've covered with a tick mark when I finish it. Each time I finish a chapter or section of my studies, I cross it off my list, which serves as a visual reminder to keep going.
For instance, I may choose three subjects from a certain subject and give myself three hours to cover them; the length of time spent on each topic and the number of breaks I take during this time are less important than the fact that I complete the task at hand. Some topics, however, require more time than is allotted, so I make a separate flowchart for them and assign myself a specific amount of time to learn about the issue and its sub-topic.
The Value of Rest Breaks 3
It is a common misconception that the more time you devote to learning, the better your outcomes will be. It's just the reverse; I find that the more time I devote to studying, the more exhausted and disinterested I am, such that I wind up squandering my time since I study for hours and hours but end up remembering very little. So, it's important to give your mind a rest from studying every once in a while. As an example, you may spend 10 or 15 minutes studying a topic, then take a little break to do whatever brings you the most peace and happiness, and then return to your study session.
Participating in Group Study Sessions
When I get together with friends for study sessions, we talk about everything we've covered in class, I give them my thoughts on what I've learned so far, and I receive their take on the material, both of which improve my grasp of the material. There is a need to study together, but during that time, you must not squander it by engaging in idle chatter or letting your attention wander from the material at hand.
5. Use the Four-Step Learning Process or Your Own Preferred Approach.
I have been using Richard Feynman's four-step process of learning as the basis for my own for as long as I can recall. I like to study a topic until I fully grasp its central idea, at which point I get out a pen and paper and try to summarize the idea as succinctly as possible by using bullet points. After I've boiled the concept down to its essentials, I reread those bullet points to see if I've missed anything, and if I have, I go back and rework them in light of my topic. Only then do I describe the concept in my own words, based on my own understanding of the material. The notion of the issue has been amended by me to match with my own knowledge of the topic, thus not only do I study the topic merely for the time being, but I will remember it for a long time.
Although I've found success with this approach, I can't guarantee that it will provide the same results for you. The most effective method of learning is the one that best suits the individual student; for example, if you are an auditory learner, someone who learns well from audio, then record your notes for yourself and listen to them; if you are a visual learner, then create diagrams and charts for your topics to understand them.
These are just a few of the strategies that have proven useful to me in cramming for tests in a short amount of time; I hope they are useful to you as well. Keep in mind that your mind may function differently from mine, and as a result, your learning and comprehension styles may differ from mine.
Join me at:
Noise, Read Cash, Hive, noise.app
Disclaimer:All texts are mine and original, as stated. Any resemblance to other content is entirely coincidental, as is any similarity. Copyright © 2022 JHT — All Rights Reserved
Sponsors of MaritessNgBuhayMo