A tremendous end of October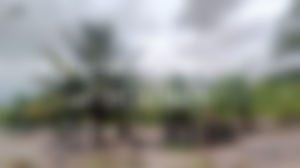 October 31,2022
Good morning, good afternoon, how are you all doing. Particularly to the people of the Philippines? I really hope that you are not in danger... the typhoon is very powerful, and there have been many deaths in other areas. The wind is very gusty here in our region, and it doesn't matter if it rains or not. And it is precisely this that I am most concerned about. Even if the rain is heavy, it should not the wind.
In the twenty years that I have lived in this house, I have never once been affected by flooding, something for which I am extremely grateful. But the wind is really our enemy because some of the components of our house are made of low-quality materials, making it easy for those components to be blown away by the extremely powerful wind... but I'm thankful because it wasn't completely blown away today... Hehe..
The night before was the absolute worst case scenario because I was even able to hear the gusts of wind from within our home. In addition, I have noticed that the wind is picking up quite a bit. The electric post has been knocked over, which has resulted in our experiencing a power outage in the middle of the night. And as I sit here and write this article at 2:30 in the afternoon today, our power has just been restored.
Before I go any further, I just wanted to take a moment to show my appreciation to all of my supporters, including my sponsors, subscribers, upvoters, friends, and readers.

I count it as a great blessing that I was able to find you all; gratitude fills my heart.

You should read some of their work because they are all really good authors.
Even though the typhoon has moved outside of the Philippines' area of responsibility, we can still feel the effects of its strong winds here in our region.
There are many positive and negative life experiences to be had during the month of October. But this month is not the end; we will continue our journey until our very last breath, even though we have failed to complete many of the challenges we have faced. Fighting!
Join me at:
Noise, Read Cash, Hive, noise.app
Disclaimer:All texts are mine and original, as stated. Any resemblance to other content is entirely coincidental, as is any similarity. Copyright © 2022 JHT — All Rights Reserved