A busy day of mine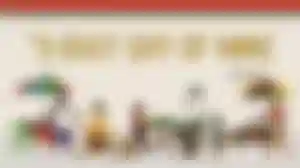 Date: June 18,2022
Hi everyone.. I'm a little tired today so I am late for publishing .. I have so many events to attend .. At exactly 6:00 am. My cousin calls me on the phone. He is inviting us for my uncle and aunties birthday. That is lunchtime.. I said in my mind we should go so we would be able to save on food expenses .. Haha .. In our country, the price of goods here is very high. For the amount of 10 dollars, you can only buy a few .. It is just enough to alleviate hunger; So today, I start my laundry as soon as possible .. Maybe around 6:30 am .. (so we won't be late for lunch birthday, we might run out of food eihh) .. Last time we were invited, we were late and ran out of food .. Hahaha .. I can't imagine that can be possible.
Lesson learned: don't be late on special occasions like birthdays.
So it is already 11:30 am when I finish the laundry. And suddenly I thought I didn't have any outer clothes anymore. Ohh my. I'm so confused.So I use the dryer to dry my shirt and shorts for today.I'm very angry because he can't afford to dry my cloths. So because it can't, I put it in front of our electric fan . I use two e-fans. I was amazed it really works.. Haha . I am so brilliant .. Just kidding, I've been doing that before. I only have one pair of uniforms, so I need to wash them at night and dry it front of our e-fans. 
So fast forward.. it is eating time... They have two main courses.. One is tinolang manok ang fried chicken.. There are some side dishes also pancit, pizza, and shanghai, my all time favorite dish. 
Food Review
Chicken Tinola

I was shocked by the flavor and taste of the soup; it is very different from the chicken tinola that my father cooks. Also, the meat of the chicken is very delicious, and it is cooked very well. When we are eating, I ask my cousin what type of chicken is used in chicken tinola. He said that it is organic chicken. It is my first time eating this variety of chicken; it is very delicious, but the downside is it has too much oil.
Fried chicken

I like this because its saltiness is good, and also, it is my favorite part of chicken is the wings. So it is very easy to eat..haha I ate a lot of this, and I feel like I'm at an unlimited chicken wings restaurant before. 
Shanghai 

The shanghai wrapper is very thin. I like how they wrap the meat. Its meat is so delicious, and the meat inside is too much. All in all, it is an excellent dish for me.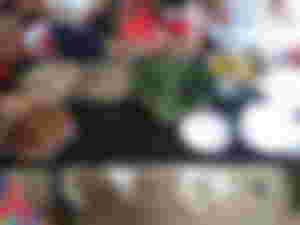 These are the only ones I pictured. I didn't take many pictures because I was so hungry..hahaha..and I forgot afterward because I really enjoyed the food..hehe Sponsors of MaritessNgBuhayMo