Nidalee profile icon. Made by me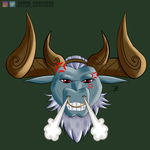 Oi! This time I want to show you a Nidalee drawing I made. I always like to draw League of Legends champions adding a bit of my style but without changing basic/main facial features. I did spend a bit of time doing her clothes because I'm still learning how to emulate different textures and tbh it hasn't been easy for me lol.
I'm sure you got hit by a flying spear coming from nowhere but landing just at the top of your champion head. If you were an ADC or a Mid with low HP this spear probably was the ticket to heaven haha. I don't know how to play with Nidalee, I tried many times but ended up replacing her by another hybrid champion (Jayce) maybe because I used to play jg a lot in the past but now I enjoy more to play as a Top or Mid laner.
Hope you guys enjoy it as much as I do!