Analysis with or without indicators? + Analysis BTCUSDT 02/16: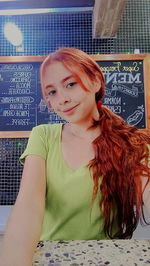 Hi, how are you? Happy mid-week to you, how's your day going beautiful people of Read.Cash? Today I am going to share with you my opinion on analyzing cryptocurrencies with indicators and without indicators, using my daily analysis of Bitcoin as an example. As I said before in other articles, I prefer to forge my trading style through technical analysis, linked to an algorithm that was built to carry out with the greatest suspicion, but there are many ways to do it: Fundamental way such as news trading or price action trading. Everyone has their style and respects each other, I am just a novice who learns a little more every day but today I will tell you why I prefer to have an algorithm and analyze graphs with indicators, and not with them and based on news and fundamentalisms.
Holaaa que tal?

Feliz mitad de semana para ustedes, ¿cómo va su día gente linda de Read.Cash? el día de hoy voy a compartir con ustedes mi opinión sobre analizar criptomonedas con indicadores y sin indicadores, usando de ejemplo mi análisis diario de Bitcoin.

Cómo dije anteriormente en otros artículos yo prefiero forjar mi estilo de trading a través de un análisis técnico, ligado a un algoritmo que construyó para llevar a cabo con la mayor de las sospechas, pero hay muchas maneras de hacerlo:

Manera fundamental como trading con noticias o con la acción del precio.

Cada quien tiene su estilo y se respeta, yo soy solo una novata que cada día aprende un poco más pero hoy te diré porqué prefiero tener un algoritmo y analizar gráficas con indicadores, y no con ellos y basándome de noticias y fundamentalismos.
There are many theories, theses, ideas about trading but I have learned that the best way to verify what is right or wrong is by applying and practicing the different techniques. Trading based on news will play too much with your emotions, since if you have gotten into investing you will have seen how a piece of news paints a bullish picture and how another piece of news paints a bearish picture. That is the idea of ​​the news, to manipulate people, to make them panic and not know what to do, I am not saying that it is bad to read news, the bad thing is, when you let it dominate your emotions, most of the news is probabilities and that generates anxiety. On the other hand, operating with technical analysis is already a study with endless structures, which will help confirm the probability of success. The indicators are very good to improve your trading system, however I use them accompanied by trend lines, candlestick patterns and support and resistance to give you a higher percentage of success. The indicators are an essential complement and although most of the indicators are not good, there are a few that fail little and if they fail it is due to external or superior causes.
Mayor probabilidad de acierto:

Existen muchas teorías, tesis, ideas, sobre el trading pero he aprendido que la mejor manera de verificar que es lo correcto o que no es correcto, es aplicando y practicando las distintas técnicas.

Hacer trading basado en noticias jugará demasiado con tus emociones, ya que sí te has metido en investing habrás visto como una noticia pinta un panorama alcista y como otra noticia pinta un panorama bajista.

Esa es la idea de las noticias, manipular a las personas, hacer que entren en pánico y no sepan que hacer, no digo que sea malo leer noticias, lo malo es, cuando dejas que éstas dominen tus emociones, la mayoría de las noticias son probabilidades y eso genera ansiedad.

En cambio operar con análisis técnico, ya es un estudio con un sinfín de estructuras, que ayudarán a confirmar la probabilidad de acierto.

Los indicadores son muy buenos para mejorar tu sistema de trading, sin embargo yo los uso acompañado de líneas de tendencias, patrones de velas y soportes y resistencias para darle mayor porcentaje de acierto.

Los indicadores son un complemento esencial y si bien la mayoría de los indicadores no son buenos, hay unos cuantos que poco fallan y si fallan es por causas externas o superiores.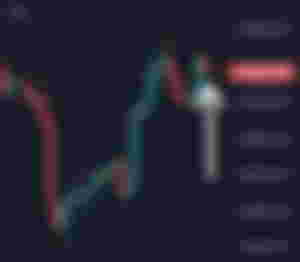 First let's talk about that bearish candle that is forming, I usually see people worried about that candle, but even though I don't usually analyze without indicators, I can see a relationship between an engulfing candle and then a candle in the opposite direction for example:
Análisis BTCUSDT 16/02: Primero hablemos de esa vela bajista que se está formando, suelo ver gente preocupada por esa vela, pero aunque no suelo analizar sin indicadores, puedo ver una relación entre una vela envolvente y luego una vela en sentido contrario para ejemplo: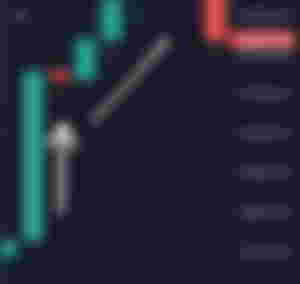 We see how on 02/04 there was a bullish engulfing candle and then a small bearish candle that a day later would have been the beginning of an upward momentum.
Vemos cómo el día 04/02 hubo una vela envolvente alcista y luego una pequeña vela bajista que un día después habría sido él inicio de un impulso alcista.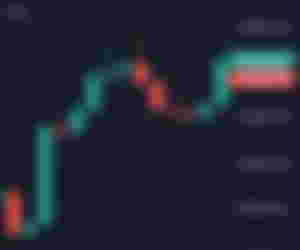 On the 28th of December a bearish engulfing candle, on the 30th a small bullish candle and then the continuation of a downtrend
El día 28 de diciembre, una vela envolvente bajista, el día 30 una pequeña vela alcista y luego la continuación de una tendencia bajista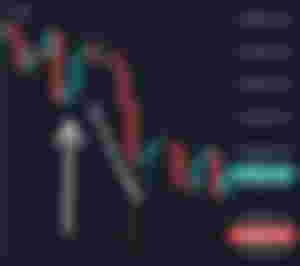 On November 26 a large bearish engulfing candle and days later small bullish candles but the bearish force finally triumphed
El día 26 de noviembre una gran vela envolvente bajista y días después pequeñas velas acistas pero triunfó finalmente la fuerza bajista
And as a last example, on October 01, 2021, a large bullish engulfing candle, accompanied by a small bearish candle, to continue a great and wonderful uptrend, so it is still too early to panic.
Y como último ejemplo, el día 01 de octubre del 2021, una gran vela envolvente alcista, acompañada de una minúscula vela bajista, para dar continuidad a una gran y maravillosa tendencia alcista, así que todavía es muy pronto para entrar en pánico.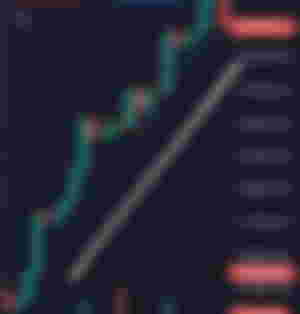 As you can see, the supports and resistances, if they are important to capture the range levels, where they are, however, do not provide as much information since a breakout of the range does not mean a change in trend, or that there will be a strong trend. For example, on January 21, the price of BTC broke the 40,000 barrier, but fell in a range, until it returned to its previous support.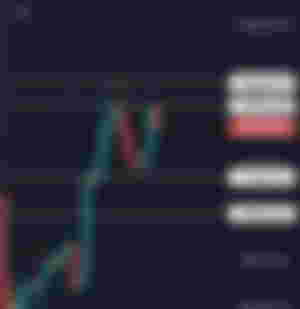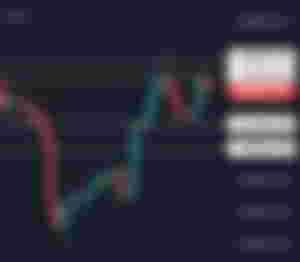 As you can see, you cannot see the strength of a trend with only support and resistance.
Como ven, los soportes y resistencias, si son importantes para captar los niveles de rango, donde se encuentran, sin embargo, no aporta tanta información ya que una ruptura de rango no significa un cambio de tendencia, o que habrá una tendencia fuerte.
Por ejemplo, el día 21 de enero el precio de BTC rompió la barrera de los 40000, pero cayó en un rango, hasta que volvió a su soporte anterior.
Como pueden ver no se puede ver la fuerza de una tendencia solo con soportes y resistencias.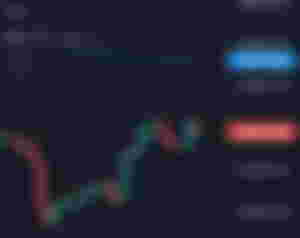 Today, unlike yesterday, we mark and point much further (the 50k), however this may change as the direction of the price changes.
La media móvil de 150:

Hoy a diferencia de ayer, nos marca y punto mucho más lejos (los 50k)sin embargo esto puede cambiar conforme vaya cambiando la dirección del precio.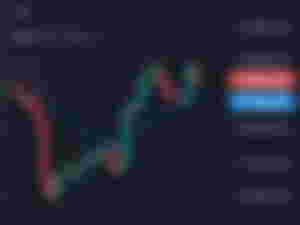 It has not been broken either, in fact it is still maintained, which gives a little peace of mind to see the state of the emas
La media móvil de 20:

Tampoco se ha roto, de hecho se sigue manteniendo, lo cual da un poco de tranquilidad ver el estado de las emas
Now combine some indicators with support and resistance: Chart within the 40k-45k range, awaiting the breakout of the 45k resistance. Chart above the EMA of 20 and EMA of 50, which indicates a bullish chart and finally MACD marking a strong uptrend. The MACD is not one of my favorite indicators, but to be able to show you what a chart looks like with indicators in favor of a better success rate. What do you think? with or without indicators? Do you like to use? Which ones do they use? Do you think the declaration of a bull market is approaching?
Ahora combine algunos indicadores con soporte y resistencia: Gráfico dentro del rango de 40k-45k, esperando la ruptura de la resistencia de 45k. Gráfico por encima de la EMA de 20 y la EMA de 50, lo que indica un gráfico alcista y, finalmente, el MACD marca una fuerte tendencia alcista. El MACD no es uno de mis indicadores favoritos, pero poder mostrarte cómo se ve un gráfico con indicadores a favor de una mejor tasa de éxito. ¿Qué piensas? con o sin indicadores? ¿Te gusta usar? ¿Cuáles usan? ¿Crees que se acerca la declaración de un mercado alcista?