Wojak In Full Swing
Wojak came in the first week of December 2021  as the first FlexUSD rewards token. Of course, the project was really enticing, to get FlexUSD reward simply by holding the token is just great! Indeed, it gives a reward, little by little, I was able to accumulate 5+ FlexUSD in my wallet. Not bad.
Then the farm came in MistSwap - Wojak/WBCH with 300+% APR, that was my first to finally earn some mist - a token with good standing in the market. Everything went smoothly, I love the passive earning from this farm, until recently, Wojak lost the farm on MistSwap, perhaps due to the decreasing volume. Then, this week when all the tokens in the market went bearish, Wojak as well plummeted. I got anxious, but one thing for sure, no way of selling it at that moment.
Today, I'm glad to see Wojak in full swing. It reached its usual value in the market, perhaps because of the NFT project that was  launched yesterday. The wacky Wojak face will be haunting everyone for sure, lol! Yes, his face can be scary and funny, but, what else can we expect from Wojak - a meme character and a YouTuber. 
Wacky, funny, scary, and ugly, but Wojak has a big heart, today, he donated all-in-all a whopping  5BCH to #Club1BCH charity #SaveTheChildren, and the fundraising surpassed the Club's goal for the charity event. This means more blessings and heaps of joy for  these underprivileged children. Aww, that was really touching, I love kindness popping out from anywhere, resonating from people in all walks of life - like the wacky Wojak!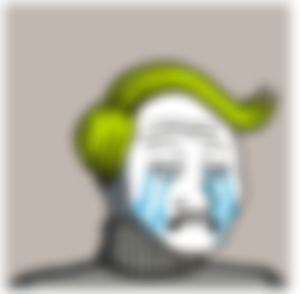 Anyway, I have my share of happiness today too from Wojak. There has been a plan by sir Smartoshi (the Wojak dev) to airdrop video NFT's to Wojak holders with at least  100,000 units. The snapshot was taken a couple of weeks back,  I guess. The launch must've delayed the drop, thus instead we got random Wojak NFT. Yay! So, happy to add this to my NFT collection. Wojak is crying here, but I'm smiling, lol!
Still, I'm planning to mint another Wojak NFT,  when my Metamask will get its full swing too. Lately, I have been having problems with the browser. It seems that the new websites I try to access get errors, including Pandaland, and yesterday I noticed the Wojak page too. I still try to fix it, searching for answers on Google and somehow everything is vague, or I'm just so naive deciphering techy stuffs. Help! If I won't get help, I might just uninstall Metamask and download again, though this can be a nerve-wracking retrieval of all tokens. I don't know any other way anymore. Sigh. One thing for sure, I missed minting Pandas, oh well, not meant to be I think. Sad.
Anyway, there are still a lot of things to be grateful for today. A free Wojak, and imagining the smile of those children who will benefit the #SaveTheChildren charity is already heartwarming.
P.S.
Minting for the Wojak NFT is still up and running here at 0.04/NFT. And, there is a surprise giveaway for minters that hold the topless Wojak! Woah! It could be you, I hope me, hehe!
---
Thanks for reading!
---
Lead Image -edited via Canva
First Photo is Mine
All Original Content (unless specified otherwise)
01/26/2022
©️ LykeLyca
---
Write articles and join us! Click read.cash
Make some noise by writing short posts. Click noise.cash
Follow me in Twitter @LycaLyke
Start mining, trading/ copy trading in Bityard
---