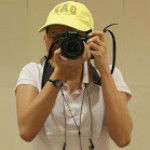 Please read the first part of this article "She Can See Ghosts," all the strange things initially happened with our friend Ana, who can literally see and talks to ghosts.
I have made a part two because my adventures with Ana continued from our fourth year in College to our fifth year of Clinical Internship. And, in this second year Ana have been my companion for a month both in the boarding house and in the hospital we've been assigned during internship.
My first month in the program was in Jose Reyes Memorial Medical Center, of course I was with Ana. I'm so glad I was with her than the other obnoxious guy in our batch that travelled with us to Manila. The hospital was quite old, at the back of my mind Ana must have seen a lot of ghosts from there. However, I told her beforehand to ignore it so, the month went smoothly, we finished our first month no ghosting whatsoever.
Oh well, that was I thought actually, until this obnoxious guy in the boarding house triggered a mess one night in the house.
We had a small celebration on the last day of May, actually, it's my birthday too, so I bought burgers from Mc Donalds for my colleagues in the boarding house, it's the nearest fastfood chain available in the area, and of course my budget can only afford. The landlady's son has been so friendly to everyone too, and bought bottles of beer. This boarding house has been an abode for Mindanaoan PT students for internship for some years, that's why the son of the landlady has been so much comfortable understanding our dialect as well.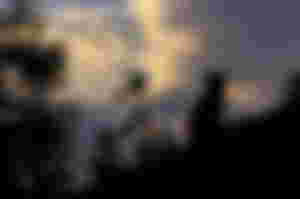 The small party was held on the rooftop, the favorite spot for students to hang out most often was on this side beside a huge tree because it has been cozy and cooler. The branches of the tree almost covered that side. Some were drinking, others just had chit chat and some laughs of our experience in the first month of internship. Some students returned to their rooms as the night grows late, while some remained on the rooftop.
There were still around 7 or 8 of us on the rooftop, when our obnoxious guy batchmate speaks unthinkingly to Ana about her gift of seeing ghosts. Everyone was thrilled, perhaps the alcohol had an effect already, well, except me. I know this won't be fun to watch.
The student from Dipolog excitedly asked Anna if she can see a ghost with us at the rooftop, and even added if she can talk to them too. My friend had been tipsy, I believed, and answered yes to both questions. Everyone looked at each other in amazement, like a child wheedled for a tour to an amusement park.
Ana, all of a sudden transferred to a corner just within the group and faced an empty space, and talked smoothly, "Do you have a name?" "What's your name?"
The ghost perhaps nodded in agreement, and Ana then answered and said, "His name is Bob."
Right there and then, everyone had goosebumps and ran.
I grabbed Ana by the hand and said that we should go too, but she faced that same empty space again before moving out and said, "we are so sorry, we have to go."
And, we left.
My friends and study group mates from the previous year meet again at the school campus when we finished the first semester of clinical internship. We need to have our clearances signed by several department heads that time, and since we only got a day to do this because we need to travel the next day to our respective hospital assignments, we waited for our clinical coordinator until 6 o'clock in the evening to submit our clearance and take our endorsement.
After we finished, the group then had a small discussion in the roundabout in front of the medical center. The roundabout was like a park with lots of trees and some benches arranged suitable for the use of the students, and the community too. However, during at night, it does not have enough lighting making the place a bit creepy.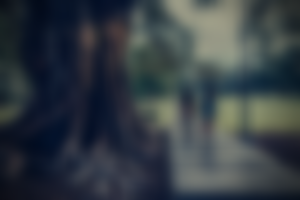 We waited for some of our friends there, when suddenly a strong wind swept all the leaves and dust towards us in a second. Then, Ana forced us to leave the place and perhaps wait for our friends in the mall. We rode the next jeepney that stopped nearby, then a friend realized that what had happened must be another ghost interconnection with Ana.
He asked Ana what was it about, and answered that some ghosts gathered in front of the medical center, waving timidly like bidding goodbye to us when the wind blows hard. And she thought, that must be a sign to leave the place.
The End.
---
Okay, that was it.
From that moment onwards it seems that I no longer have those strange moments. Mind you, from the start I really don't believe in paranormal existence. I only had an experience of such sometimes with Ana, if my memory serves me right.
We might agree or disagree on these things because it's not something that happens ordinarily. But, in my experience I can't brush it off aside in disagreement because of friendship, and of course, that feeling too that somehow there must be that unseen entity in the shadows, watching.
The only consolation we could give to these wandering souls are our prayers. Praying that somehow they would rest in peace, and rebuke any harm or destruction while we live with the unseen, undermined and abandoned souls.
---
Thanks for reading and the generous tips from everyone! God bless you... overflowing!
P.S. Thanks to @Jane for the sponsorship renewal yesterday, and to all my great amazing sponsors, thank you!
---
Photos from Pixabay (free to use images)
Lead Image/ GIF by me
©️ LykeLyca 10/31/2021
---