This time, another article to showcase the Philippines. Visayas consist of many islands, thus regions are separated mainly by large bodies of water. Food habits and preferences are predominantly from seafoods - fish, crabs, shrimps and seaweeds. Moreover, fishing is not only as food source, but a livelihood too.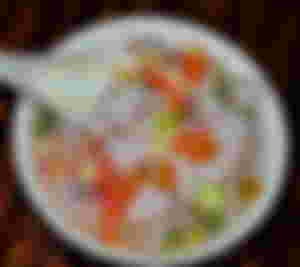 The Eastern Visayas Region, still got some influences from the Bicolanos maybe because of its proximity in terms of location. The Visayas of this region use coconut milk in their food too, but little or none of the hot pepper. Fish abound in the waters surrounding the islands. A favorite delicacy in this area is Kinilaw which is often served as a "pulutan" - an appetizer or food the locals loves to eat when drinking some alcoholic beverage. In some places it is used as a main dish. What is interesting in Kinilaw is the
method of preparing it- literally cured just by the acidity of the lemons and vinegar, the fish dish will be served raw in your table (I will try to write a recipe article about this viand soon).
In some parts of East Visayas, the land is dry and sandy. It is good only for growing tuber crops, such as gabi and ubi (purple yum) and balangjoy or cassava. Boiled gabi or ubi or cassava with grated coconut and brown sugar are good for snacks. These delicacies are even famous not only in Visayas but everywhere in the Philippines. Some people in the early days, and until now, use corn as their staple food because it is more filling than rice. Corn contains more protein than any other cereal, it also has less carbohydrates that's why this is preferred among diabetic patients. Cebu is noted for its Hojaldres or Otap. This is a kind of pastry which has been adapted from the Spanish recipe. It is delicious for snacks and goes well with fruit juices or other drinks.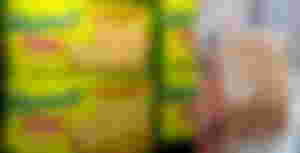 Unlike the barren and dry East Visayas, the Western Visayan Region has a fertile and more productive soil. Its rains are moderate and the soil is rich, making the land suitable for sugar, rice, corn and abaca. The waters around this region also abound with fish and drying fish has become one of the important industries of the people living along coastal towns. Dried fish from the region is exported to Manila and other parts of the archipelago. These dried fish when cooked with vegetables becomes one of their favorite dish, the Laswa.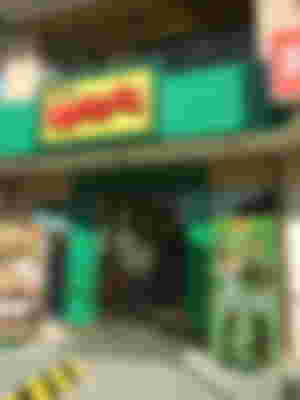 If the Tagalogs have Pansit Palabok, Visayas also have Pancit Molo and the Batchoy, the former is a recipe named after Molo City in Ilo-ilo, both are noodle soup that can be served at the beginning of a meal or as a heavy snack in the afternoon. Ilo-ilo and Bacolod became popular because of Inasal.
In earlier days, Inasal is just another fish recipe. The fish is cleaned and seasoned with salt. A sharp bamboo stick is stuck through the middle of the fish which is then cooked over live charcoal. Nowadays, Inasal is still very popular all over the Philippines with booming franchises of restaurants,but using chicken instead of fish. This chain of restaurants must be one
of the successful businesses in the country that showcases the true Filipino culture of food and culture, especially if you eat it with your bare hands or "Kinamot" in Visayas dialect - "TatakPinoy". The photo below is Mang Inasal's bestseller and my favorite too!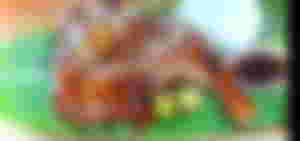 Have you experienced dining out in Filipino restaurants? You can share your experience below with the food and practices.
___________________
This article is Part 2 of Philippines: Luzon Food Habits and Practices
Watch out for the Mindanao part of this series :)
___________________
Write your world and earn BCH! Scroll up and SIGN UP for FREE!
___________________
Photos from Wikimedia Commons with attribution from the author
Photo with watermark is MINE
___________________

#TatakPinoy #MangInasal #FilipinoFoods #Kinilaw #CebuOtap #DriedFish