Every November 1-2 the world celebrates Halloween, but I prefer to call it All Saint's Day and All Soul's Day respectively. Why? For the simple reason that we should be giving significance to our dearly departed, our loved ones who had given us great unforgettable memories, the souls that we should be remembering on this day of celebration. And not the scary ensemble of monsters with all creepy satanic costumes. It might be fun but it's not gratifying commemorating demons on any single day of our lives, not even on the 1st and 2nd day of November (that is just my personal opinion).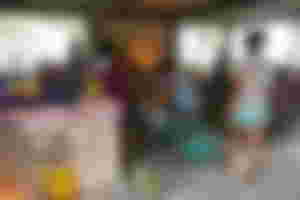 Our family on these days prefer to gather around with food, drinks and talks about life, fun and crazy roller coaster of memories with our departed loved ones. Every 1st of November we visit my mom's hometown in the province that is my grandmother's ancestral house, my aunt - her sister, still lives there with her family. It becomes a family tradition that we would gather there, we cook
some food and have lunch together. After eating, we will altogether visit my grandparent's mausoleum in the cemetery, offer flowers and lit candles, and prayers.
The mausoleum is the final resting place of my grandparents, my mother's soldier brother who passed away so early in life because of an ambush in Sulu, Philippines. And, on that small corner of my granny's tomb is " butterfly" - she's my aunt's baby fetus' miscarried when her mommy got an ectopic pregnancy.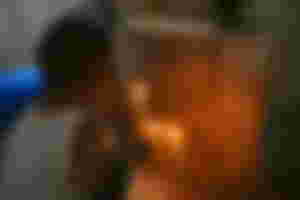 Celebrating the 1st of November that way is always a precious time with the family. The adults got a time to talk, laugh together, and relax too because we prefer to forget about work, lol! This is also a perfect time for the kids to meet their cousins and play around with them. After that entire day, my family would be packing up, say our goodbyes and drive back home to the city. This traditional way of celebrating is a bliss and a blessing indeed.
Unfortunately this year, this corona virus scare and pandemic changes that. The government beforehand imposes stringent policies to limit people from gathering around and visit cemeteries this November 1-2. As early as October 28, police visibility existed in these areas, I'm glad that people are compliant too, it seems that we are heading in a better way for Covid-free city, if we could follow simple rules like this imposed by the government. So, today there is no family's traditional gathering, no travel back to my mom's hometown, and no more dining together with relatives. We have no choice but embrace the new normal - that is, stay at home. This morning, my dad cooked my favorite vegetable chopsuey, my brother did his delicious cajun seafoods, I ordered custard cake and eat our hearty lunch together. And remembering how time flies, we started the year in Covid scare now we are almost ending the year still in this situation. Nevertheless, I thank and praise God for the safety and good health, with my family beside me, still breathing, smiling and in gratitude of what we have.
Lastly, I love this line from Maroon 5's song;
"Here's to the ones that we got
Cheers to the wish you were here, but you're not
'Cause the drinks bring back all the memories
Of everything we've been through
Toast to the ones here today
Toast to the ones that we lost on the way
'Cause the drinks bring back all the memories
And the memories bring back, memories bring back you"
Am I hearing you sing too? LOL!
Anyway, I hope you had a fun Halloween! Whatever way you celebrate it, always keep yourself safe first and enjoy the moment.

______________________
Some stories about the things around ME :)
______________________
Photos are all MINE
______________________
Write your world and earn Bitcoin Cash! Scroll up and SIGN UP for FREE!
______________________