I Swim With Sharks!
Whaattt?
Hello guys! I'm sure you came to read this because I just made something crazy and extreme, but don't worry I'm still physically intact. I still have all of my four limbs, my head too, and of course my soul didn't depart from my body due to fear, lol! That must be something really scary to do or to dream about, but yes, I did, in my dream, lol!
I've read this new writing prompt from @JonicaBradley about "Would You Rather" and indeed, it's a good fix for days we don't have anything in mind to write about, so from her list, I picked "Swim with sharks or alligators/crocodiles." and she talked about bad habits, guess I have to confess mine too.
Last week, I have written something from the promptfactory "Out Diving in Coral Sea," it's a daydream of an adventure that I would love to try, that is scuba diving in one of the most exotic diving places on earth. In the story, me and my friends declined to swim with the sharks, that was my first to see men and sharks swim together in harmony. I have learned that there are friendly sharks in the vast ocean, these are the nurse sharks, and I think I can swim with them if it's from this shark family. Perhaps next time I would definitely try to experience such extremes- with the right people, right gears and right sharks, lol! So, obviously, I would rather swim with sharks for this prompt.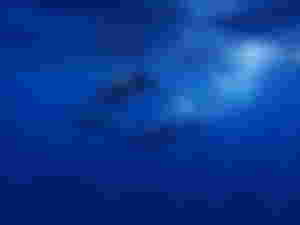 While reading some stuffs about crocodiles and alligators, these animals are always to be avoided, both are really aggressive. However, alligators are known to be less harmful than crocodiles, but still have tendencies to attack when triggered, especially when provoked or hungry, thus a big NO for me. Funny, my imagination would want me to become the friendly crocodile, haha! If you could still remember I have written an article "If I Were a Crocodile" long time ago, haha! What?! Yah, that's true. But, it's nice to transform a scariest animal 180 degrees and be the friendliest in the world! Anyway, what if crocodiles and alligators are docile? That is something in our wildest dreams still, so I won't swim, or even smile with them.
Anyway, for the confession... if you noticed from a couple of my past articles mentioned here, I have this bad habit of imagining things, haha! I just realized it now actually. But, I'm 100% mentally and emotionally fine and I'm totally in synced with reality, no kidding, lol! Really a bad habit, really? No, just imagining things so I could come up with something to write about. You can try it too sometimes, actually I have read some faction, coined after real stories with a twist of the fiction genre. See, as writers, we can make things, even our imagination, valid.
Why not try it now with this writing prompt?
Okay, okay, okay... That's it! Thanks for reading something crazy from me, comment if you want to swim with the sharks with me, lol!
---
Check out the writing prompt here and the list of ideas for "would you rather." Also, to take part in the writing prompts, please follow these simple rules:
Join the Promptly Jonica community here

Write anything about bad habits

Write 100% original content

Write at least 600 words for Rusty to be happy

Submit your article to PromptlyJonica

Tag @JonicaBradley

Have fun!
---
All photos from Pixabay (free to use images)
All Original Content (unless specified otherwise)
03/17/2022
©️ LykeLyca
---
Write articles and join us! Click read.cash
Make some noise by writing short posts. Click noise.cash
Follow me on Twitter and Telegram @LycaLyke
Start mining, trading/ copy trading in Bityard
---