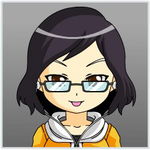 Who's thirsty for some saltwater action? Haha. Yes folks, I'm just like you. I haven't swam in the ocean for almost two months! I work near the sea and yet I don't even swim in it! What a waste right? 😂
Oh but don't fret! Finally I was able to swim today. Hurray! This morning was my second time to swim in the ocean since I got here in Batangas. 😂 Wow right?
This province is known for its many beaches and resorts and yet I rarely get to swim. Why? Because all the beaches near me are private. 😂 The nearest public beach costs P160 ($3+) special/solo tricycle fare just to get there. Of course I'd spend double the amount since I need to get back to the boarding house too. 😆
What's the shortcut/alternative so I could be able to swim in the private beaches?
You have to know someone in certain subdivisions with private beaches.

You rent a resort/house inside certain subdivisions near the private beaches for a day.

You discreetly go to the private beach at the opposite side of where you work. 😆
Yes folks, there's also a private beach we employees could go to. Well technically I am just a trainee but I can still go there of course. 😆 The reason I've only been able to go there now is because (1) it's quite a distance to walk and (2) we suddenly don't have work today.
Imagine how happy I was to find out this morning that we don't have work today. Haha. I was feeling kinda sick last night actually, like I was gonna have the flu or something. My head was slightly aching for some reason.
Good thing my supervisor also has a headache and told the head manager that we don't need to work today. Since he agreed, we all didn't have to go to work. Awesome right? Finally I have free time so the first thing I asked her was if I can go to the beach. She agreed too so of course I went! 😆
It was around 8 am when I found out we don't have work today. Good thing I already had breakfast before the announcement. Haha. So I prepared my stuff and then walked to the beach. I got there around 9 am.
On the way there I saw several breathtaking views. Here's one of them:
What a relaxing view. Sky, mountains and sea, perfect combination right?
Anyway too bad I forgot to use the sports app to count my steps. 😅 I wonder how many steps I could have made. But for sure I wouldn't have reached the minimum 5,000 steps so never mind. Haha. It's just almost 2 kilometers from where I currently live (according to Google Maps).
Even so I still enjoyed my long walk. It was worth it to finally get to my destination. It was my first time to go there so I didn't know what to expect. I went on my own because no one else wanted to swim.
My teammates and I haven't really gotten along well at all so it's fine if I'm on my own. Would be nice to go with the second team I worked with but they had work so no choice but to swim solo. Definitely fine with me as I have other people around at that beach. 😜
Apparently there's no lifeguard there so it's good to have other people swimming in the sea. At least I won't be afraid to swim on my own. Haha.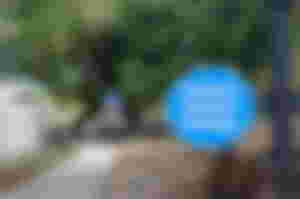 There were only two families swimming there since it's still early Sunday morning. At least even if I went there on my own I had swimming "companions". 😆
And then when I got inside, wow, look at that amazing view! 😍 Isn't it wonderful to see the ocean? It's so much better to swim in it too. ❤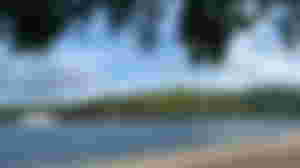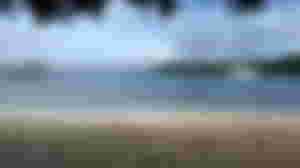 The water is cold and it was windy. I've never swam in such conditions before. And the sand, oh my, it has a creamy color but it feels so loose! 😮
One side of the beach feels like I would drown in the sand under the water! I imagined it might be partly like quicksand. 😖 It was quite scary so I could not go in to swim immediately even if I wanted to.
I had to explore the shore to find where I could have better footing in the water. Eventually I ended up in between the two families. Haha. Well hey the sand at the left side is more solid to step on as opposed to the right side. No wonder people were swimming in that area. 😅 Some were even wearing their snorkel gear further in.
Unfortunately I forgot to bring my goggles. 😂 I brought it with me but I have never used it. The first time I swam (in October) I forgot to bring the goggles. And then this morning I also forgot to bring it. 😆 What a waste. I didn't see the small fishes that the little kids were feeding. 😂
One of the families were feeding the fishes while swimming in the ocean. I could not see any whenever I would swim. 😂 I wonder why the water is not clear without any goggles on. 🤔 I think I saw one near me but the water was so blurry that I couldn't really tell as it swam away so fast. 😂
If ever I can go back I should bring my goggles. I should remember to bring it. I should!!! Someone remind me hahaha.
But then again it might be my last time to swim because I will be leaving Batangas on Tuesday. Awww. Sad life. 😅 It's okay, it's fine since I already learned enough in this on the job training, even if it's not as much as I expected.
At least I spent part of my Sunday well. After swimming I changed my shirt and then walked back home. Of course I took some more pictures along the way.
Look at this lovely bunch of kalachuchi (frangipani). It's not a tall tree yet so I could easily take a picture of it. It looks so nice that's why I couldn't help but take a photo of it.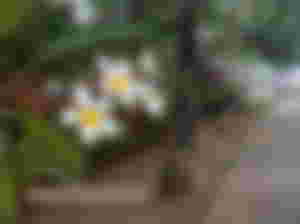 It felt great to walk after an hour of swimming in cool waters. Haha. I didn't sweat much at all since it was still cloudy even if it was already almost 11 am.
Once I got home I then did my laundry. No I did not take a bath, haha. I will just do it tomorrow. 😆 Of course I also ate my lunch afterwards.
Spent some time talking to my mom in the afternoon too. Awww. We talked about my Batangas experience and such. Haha.
The only thing I wasn't able to do today is go to mass. The church is too far and I have to save money so I can go home on Tuesday. 😅 I can have all the time in the world to go to any church when I am back in the metro.
So that's how my Sunday went. It feels like I was on vacation for a day. Haha. Good thing there's a storm coming that's why it's cloudy and not too hot the whole day.
Have you ever gone to Batangas to swim too? It's not often that I get to spend time in the ocean so whenever I can I just go to the beach ASAP. Fortunately I was able to swim since it's just a few minutes away from the boarding house. 😆
XOXO,
* * *
All images are mine.
Not a member of read.cash yet? Come join us! Let's microblog on noise.cash too!
Sponsors of LucyStephanie