Date: December 8th, 2021. Wednesday
Remaining Days: 23
Hello beautiful people. How is your day going on? Had a good sleep? I hope so. I wake up early and made breakfast. I ensured that I must have time to declare something. No, I'm not standing in election. This is something new for me. Let me tell you my family. Drum roll please.......
Well, well, well. Your desired Devil has finally decided to take part in the ongoing contest arranged by one of my favourite content creator @CoquiCoin which is named as #ThePerfectGiftChallenge2021 and yes, it is worthy in my judgement. Indeed dear. But here is a twist. The Devil loves some drama too. I am not doing this as a virtual gift giving contest. I am doing it for real. Yes, Lucifer will give real gifts to the worthy people. Now, who is going to make the list? I beg your pardon, no one actually from here. But, but, but... you will be glad to know them. Let's check it out.
I have decided to give away some gifts to the needy people around me, an orphanage and some animals residing on roads. Sorry my friends but this is what I want. I must add one thing, all these expenses will be carried out by me alone. The giveaway process has already started. So what are those gifts?
It's winter here. The weather of fog and cold has arrived already in our country. Plus, the recent untimed rain added more oddness to it. People are highly affected by Covid-19 already. After monsoon, winter is now their new problem. They had less money to buy warm clothes for them. I decided to buy some warm clothes for them. Beside this, I already asked some of my friends to come forward.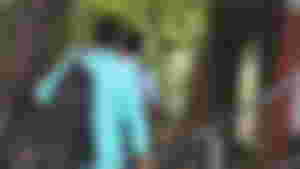 They collected non used warm clothes from their home and asked others to do so. Already we have enough to provide them free warm clothes. First victory for us.
There are two orphanage in my area. One is directed by a respective family alone. May the Almighty be more merciful to them. But another one which is just infront of my home, can barely manage their expenses. The managing committee of this orphanage is more busy in looking for their own privileges than the need of 23 orphans. This one is not acceptable. Not by me at least. I am having proper foods and clothes but those little children residing just 400 metres away are having difficulties. No way. That's why I managed some money from my 6 month savings to donate here. I know it's not that much but they can easily have proper foods for a week I guess. Let's see what happens.
7 dogs & not sure 3/4 cats maybe here in our locality who find their foods from the wastes of tea stalls and normal restaurants. Rarely they get foods from any families because they fear dogs a lot. Their luck charms when a marriage ceremony happens. But it has no obvious date. I decided to cook food for them in this winter. But here I have some limits too. I can't cook daily as that's impossible but at least I can feed them twice a week during this winter. I know it's not enough but at least they can have some happy days from the Devil.
This one is relatable with many of you. The middle class family like us. Yes, we are not so rich and we have a little earning. No shame on that. But I know some families or I must say middle class family who are already in deep troubles. Some are in debt, some need medicines having higher costs, some need to pay school/college fees in time. They all need the notes printed with currencies but they have no idea how to manage them. I can easily understand those families problems. They can't ask anyone to help because of shyness. That's the problem with us. We fail miserably infront of our self respect. Anyway, I decided to contribute my November month's income from read.cash to them. I will sent them via online transfer. Because they will not take if I give it to them directly. Even my friends don't know about it.
Sorry friends, I personally want to give you gifts more than you people desire. But I preferred those needy ones. I am handling these all alone. I hope you understand your Lucifer. This is my Perfect Gift of 2021. This prompt is created by @CoquiCoin Thanks dear for allowing the Devil to express the greatest feelings. Though I modified it and make it real but trust me I'm having the real pleasure. Have a happy & cool Christmas Vibes dears.
The pictures used in this content are mine.