Marching Towards Hotness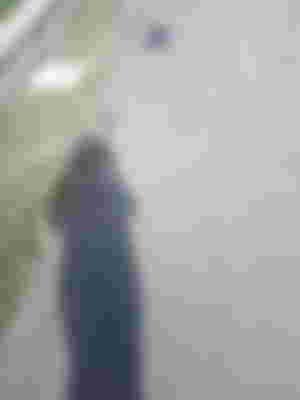 That's me starting my day with a peace sign shadow while walking. The heat in the morning is not that piercing and still has vitamin D so I enjoyed my time walking. It's officially the summer season as March gracefully marched it's way to our skins with the hot weather every single day.
Can you feel the hotness in the air? By far, for me, this day is the hottest that I experienced. I am not really good in handling hot weathers because I easily sweat and get headaches. And even if the AC is working in the office earlier, I still felt the humid air circulating the whole vicinity. I really did get the headache earlier and still has as of this writing.
March is also a Fire Prevention Month. Did you know that most cases of fire accidents happen in the month of March? Well, by this time of the year also, our safety officers conducts a refresher in every department about what to do if fire broke out in the whole building. We have been experiencing mild fires on tenants we have in the mall and so far it was handled by the firefighters quickly. Not to mention there's a post of firemen just beside the mall.
I just wanna share to you my family's experience about fire.
They all say, its better to get robbed or get flooded rather than experience fire in your household because when you get robbed, not all things will be gone, flooded, because you'll have ample time to save whatever important documents you have. But getting fire on your house is another thing.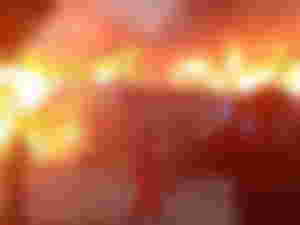 It's a fine sunny and humid noon. It was around March also in year 2012 but in the time of Araw ng Dabaw. Most of the malls that time had invited artists from Manila to entertain the people as a celebration. Coco Martin was very famous that time and apparently he was on the mall I was currently working now. My neighbours, as they were eager to see artists left their homes immediately. It was 12:30 in noon time, I'm washing our dishes as we just finished taking our lunch when suddenly scream of terror and horror at the end of the compound can be heard. We're just three at that time, my mother, myself and our youngest. We immediately went outside and my, I was very astonished to see a fire so huge even when it's meters away from our house the heat is very piercing. I was really shocked for about 5 seconds, just standing and staring still at the fire engulfing the houses like mad. The orange color together with ashes and gray smoke was very mesmerising. I was just pulled out by my astonishment when my brother shouted and pulled me inside to save whatever we can save. My mother always had this bag full of documents and ids and she secured it first. She was the one to leave the house first. Me and my brother took turns in saving appliances and clothes and other personal belongings. But I tell you, you can't remember what's important at that time. In every item my hands can get I just threw it outside for my brother will put it in a secure place. Imagine the adrenaline rush I got that time. For about 3 minutes after the fire was already in our house, eating it whole. My mother cried together with our neighbours. I'm really into shocked at that time so I just stared at our house that turned into ashes. I assured myself, it's okay as long as there's no lives lost.
Do you know the reason of the fire? As excited as our neighbour to see Coco Martin, they left their house that had some remnants of fire in the wood they used for cooking. Take note, it's very windy that time and it started the whole chaos. It will be one of my most unforgettable memory and I'm proud to say we coped up after that. We built our homes again and started anew.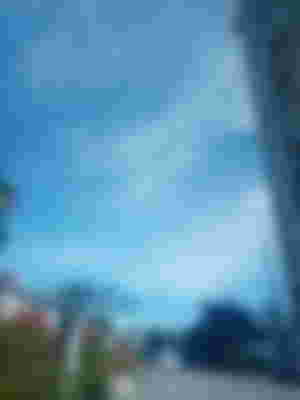 That's the morning view earlier. The heat is present and will be present in the next days. This is the season for a dip in the beach or in a pool. But please be alert and cautious when leaving your homes. Make sure all outlets are clear and be mindful in using flammable and dangerous things.
Post Note
Hey there lovies,
Take more fluids and shelter in this times of heat. Stay safe and well wherever you are. Thank you for @BCH_LOVER for the sponsorship. It means a lot to me. I'm happy to meet you here. To all the likers, upvoters, commenters and silent readers, welcome to my humble article.
See you in my next article. 👋
Cheering you always,
LuaDesamor 😉
©️ All rights reserved. LuaDesamor
All image are mine unless stated otherwise.
March 4, 2022 / 23:05 PH time