Happy birthday to Trisha
Hello everyone, how are you guys doing? Are you guys good? Hmmm what about those Typhoon Agaton victim? Hope you will be okay soon, keep safe. So glad for today, sun is shining and it really huts our skin hehe. But thanks God, the rain stop and typhoon Agaton left the PAR but so sorry for Baybay Leyte.
Leyte is now helping another side of Leyte, Baybay is one of our sponsors after we had typhoon Odette, and now that they are badly affected, maybe its time to send back the help that they give. That is how life goes with take and receive process.
As a youth, I would like to go there and be one of those who rescue, however how am I able to do that when i don't even have a connection that could sent me there. Now one thing i would love to do is to give my unused clothes as our youth president is sending us a message that if ever we had our extra clothes it could be a big help to Baybay.
Have you ever heard or watch the news? Then if you don't you'd better watch. But its too painful, cannot dare to finish the video hearing such an awful words coming from the newscaster.
Its so sad to see how we people are suffering because of natural calamities. Typhoon Odette just happened last December 2021, now while building up and recovering, another typhoon is coming. How sad was it for real. While we sleep, people in Baybay were in chaos, some were injured, some are missing, sone are dead. Its so sad to see this is really happening.
Thanks to Almighty, typhoon Basyang didn't enter the PAR, I just hope that it will just vanish and so it could not land to another place and made an impact.
I just hope that everything will be back to normal, asap.
Lord, help us to overcome this problem. Protect your people and we needed you.
So just this morning, since the weather is great, electricity is back also !e and ate cha decided to go to sogod for groceries. Yeah! When we got there ohhh my gosh, ate cha paid so much for what we had. At that we will sell it on our 3C's store. It is called 3C's because this store in am investment of the 3 sisters, Chacha, Cheche, and Cath2 so their names is so cute for me, however this two are not here in Philippines, they work at manila and they had families there.
So after the groceries, I went to my managers house as she was asking for my presence on her second childs birthday. I went there with !y boyfriend for around 7 pm and haha ate em was shocked because of my late appearance, but still she's happy, happy because i !ade her invitation cool.
So here let !e show to you the birthday cute little girl.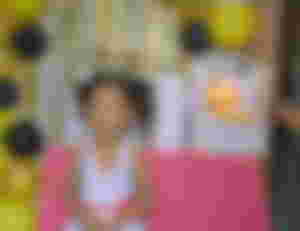 Look at this very cute celebrant hehe. That cake was so delicious its so cool when i tasted it nahhhh I found the cake sweet and supper delicious. I don't know why but children really loves barbie right, I do also when i was at there age, even now sometimes watching barbie is a good idea hehe.
Tricia did enjoy her day and her mommy and daddy was so happy and grateful for having them.
They're family is cute, simple but happy nothing is more than enough but having a loving, kind and sincere husband. They are good couple, no issues and loyalty stands on them.
Happy birthday to you Tricia, your so cute, stay makulit as you grow, be a child to your mom and soon when you grow up and understand life i hope you will never let your mom do all the house chores and so on. Be a daughter okay. I am looking forward with you and hope i can see you grow so we could have our bond as your ate.
More birthday's to come to you little princess...
That will be all guys, just sharing to you how mu day went. How about yours? I would love to hear it from you.
Anyways, good evening and have a great day!
SALAMAT ❤️