Hello awesome readers! How's life? I've been inactive here and I guess rusty doesn't want that since I notice his visit to me became less. So, I need to keep interacting with others and publish one. I just hope I can able to manage my time well or have a free time which I doubt maybe. I'll try to be active like before :)
---
In my previous article Respect her, I've mentioned that when the child hurts it's double the pain to a mother. They don't want to see their child in pain or sick.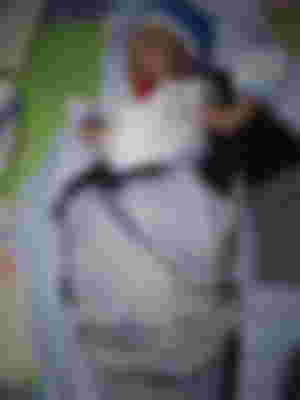 Last night, my baby is crying hard even though I feed him already and his diaper is clean, I also put manzanilla oil on him. But still, he's crying and my mother in law told me maybe my baby is looking for his father already. My partner have overtime last night so he went home late. We just get my partner's t-shirt and make it my baby's blanket, it's effective he stops crying and fall asleep. Poor baby.
---
It's been 3 days since I haven't got enough sleep during the night. The reason is that my baby is sick, he has a cold and cough. I'm blaming myself for this, I had a cold last week and maybe my baby got it on me. He can't sleep well because when he sniffed the cold, he will cough and it looks like he can't breathe well. My partner and I get the dry mucus in his nose using Salinas drop so that it won't block the airways of his nose but still he has a cold. It's hard seeing my baby in that situation. Whenever he is sleeping and he sniffs, he will cough and suddenly cry. I can also hear a sound like snoring and his deep breath. And because of that, I don't want to go back to sleep so I can look over him.
It hurts seeing him like that. Whenever I heard him coughing in a very cute sound and I heard him sniffing, I wanted to cry because I can't do anything. I search for what I will gonna do when my baby has a cold but it just says that I need to bring my baby to pedia if his cold and cough become worst.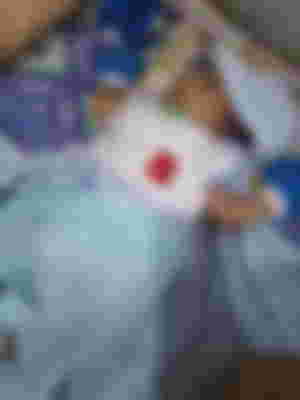 If only I can transfer his colds to me I would. I don't want to see my child sick, of course, no mother wants their child suffering in sickness. My child is still a baby, a one-month-old baby and seeing him have colds and hearing him coughing hurts me a lot. I'm taking care of him well, they said we can't prevent this kind of situation so I need to calm and don't panic.
Last night, while he is sleeping he suddenly coughs many times and then cries. I'm crying also because I don't want to see him like that, I'm praying to God to heal him and just transfer his sickness to me. My partner woke up and asked me what's wrong, why I am crying. And he told me that our baby is strong so I shouldn't worry much.
Today, we bring my baby to the center here for check-ups but unfortunately, they scheduled us for next week saying that they don't have stock of the vaccine.
Until now, my baby has had a cold and I want to bring him to the clinic but we don't have the money yet, it's private and I'm sure they will ask for a payment of course. The earnings that I got from writing here and posting in noise.cash was withdrawn last week because we celebrate his one-month-old birthday. And my partner's salary is on Saturday. He also don't have a salary last week because he was absent for how many days since he is helping me with our baby but now he go back to work already. I also don't want to ask for money from our parents.
Yesterday I messaged my cousin who is a mother too and asked her what I should do. She mentioned buying a eucalyptus oil and put in a cotton ball and place in my baby's side so that he can smell it while he's sleeping. Also, I should elevate my baby's head when sleeping so that he can breathe well.
---
Every mother doesn't want their child to be sick. It hurts them so much seeing their child like that. I hope my baby gets well soonest. So that he can sleep well at night. I prevent all the foods and drinks that can harm my baby. I used not to drink soda, coffee and other cold drinks. I also learned to eat healthy food such as veggies. All of this is because of my baby.
Thank you for your continuous support of me. Feel free to check them out guys :)