Sickness please leave us alone!
How's your day so far people? Are you well? I hope you are.
The first week of 2022 didn't go well for us here in the Philippines. Many people got sick. Cough, cold, and fever are some symptoms that many people here experiencing. If you are paranoid then you might think immediately that what if it is the omicron variant? But the virus isn't the only reason here, it starts in the mod of December if I'm not mistaken the weather became extremely cold and until the start of 2022, January. They say it's because of the cold weather. Medicines like paracetamol had a shortage since people I guess do a panic buying like what happened before and also fake medicines are everywhere so we should be careful and observant to the ones we buy. It's sad to say that there are still greedy people who just want to earn money.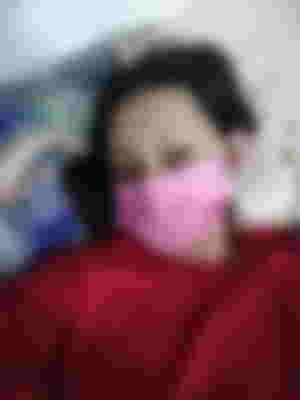 I also catch the flu. I still have a cough now but not like in the first, I don't have a fever anymore. I tried the home remedy which is to drink hot water with calamansi and a pinch of salt and so far it's quite effective. It lessens the itchiness of my throat. Even though I'm here in our house, I still wearing a face mask for my baby's safety. I don't want him to catch the flu. It's okay that I'm the one who sicks not my baby.
In the other house, my sisters are sick too, they have a cough so they also make calamansi, snow bear candy, and hot water. My father had a fever with a cough but now he said that he's quite better. And even though he's sick he doesn't absent from his work. It's hard to find medicine here even in the drugstore.
Since we are in alert level 3, children aged 17 and below are not allowed to go outside, and also those people who don't have a vaccination card. When you go outside you need to bring your vaccinations card because the police might give you a ticket that you need to pay. They also bring back the curfew hours and the restrictions in different activities. And there are rumors that there will be another lockdown here but of course, we shouldn't easily believe it cause fake news is also everywhere and no announcement yet.
For now, I just want my family and me to get well soonest and also those people who have been sick. And those who don't have flu follow the safety protocol. Wash your hands always and use a face mask and alcohol. If you don't have something important to do outside please just stay at your home. It's better to be safe, especially nowadays that flu is everywhere.
I saw a meme post on Facebook saying " nag send to all ng trangkaso is 2021 bago umalis. (2021 has sent flu to all before leaving). Well, it's somehow true but let's not blame the year. There are just people who are very hard-headed and neglect the safety protocol without thinking about its consequences.
Please stay safe people. Health is wealth so we should take care of it.
-Loveleng18