Amazing morning to all of you. We have had good weather here since the sun showed this morning. I didn't have much sleep, I'm awake since 4:30 am and until now 8:00 am (time of writing this). My baby has a hard time sleeping. And that is because of the coldness a while ago, I guess? It's hard to know what your baby wants, I did everything. I already feed him, change his diaper, burp him and yet he's still crying and that reason is the cold weather this early morning. So we put thick clothes on him and his blanket.
---
We celebrate all souls day today, though when I search it falls on November 2. My father went to the cemetery this morning since we're not allowed to go because I and my sisters are not yet vaccinated only our father. Unfortunately, father said when he came home that the cemetery is closed. We didn't know that the visiting day is from October 31 and November 3 onwards. Maybe we didn't watch the news that's why we're not updated. We will just cook biko that my mother used to make before and will light candles later.
While lying and looking at the ceiling char we don't have ceiling only roofs haha. XD, a sudden question came to my mind. "What if there's a way to send a letter to our loved ones who passed away already? Be it online such as Gmail, messenger, telegram, etc. If only there's internet there and they have gadgets or if only we can send them a letter like what our ancestors do before technology arise.

If this is possible. Who do you want to send a letter to and what do you want to say to them?
As for me, I want to send a letter to my mother and here's what the body contains.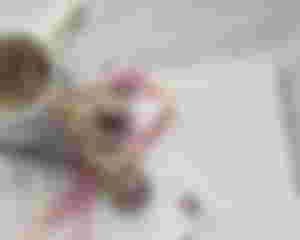 How are you up there? Are you fine there? Well, I know that you're in good hands already.
It's been 2 years since you leave us here, next year it will become 3 years already. It looks like it happened yesterday, the wound is still fresh but we managed not to let it drive us. We know you don't want us to feel sad. I want to say how much I missed you, mama. I know you did your best to fight before for us but it's life we can't control what will happen.
I would like to say thank you for loving us and being a good mother to us. I'm blessed to have a mother like you. Even though you scolded us sometimes, I know that it's our fault and you just want us to learn from our mistakes. You want us to be good people. I missed your voice and touch, I missed hugging you when I woke up in the middle of the night crying because of a bad dream. I missed how you cared for us. I missed your presence so much.
What are you doing now ma? Are you happy there? Do you have many friends there? I know you have for you are a good person.
I have so many stories to share with you but I think you already know all of these because I know you always guide and look for us from above.
My siblings are growing up fastly, they are all beautiful as you. I want to say sorry if sometimes I scolded them whenever they fight, I know you don't want me to get mad with my siblings but I also know that you understand why I did that. Your youngest daughter and I will be going to graduate next year already. How I wish you're here to witness personally our graduation (puhon). They are also doing great with their online class.
You have a grandchild already, you're a grandma now. He's very cute and jolly. Even though I have a child already I won't break my promise to you and my father that I will finish my studies and help my father in sending my siblings to school. I still look for them. I will make sure to give them a good life. Back to your grandchild, he's very good. He didn't let me suffer in pain too long. How I wish you're here to teach me some motherhood thingy. I promise I will be going to be a good mother to him like you to us.
Father is also fine. They are not staying into their work anymore meaning he will go home already and not leave us anymore.
We missed you a lot mama. We missed your biko and another dish. You weren't able to teach me your recipe hehe. I also missed you putting medals on me whenever I have an award in school. Please continue guiding us especially your grandchild.
You will always be in our hearts. I promise to make you proud soon.
I love you and I miss you mama ❤.
Ps: I hope to receive a reply from you mama but of course that's impossible.
Your daughter,
Lovely Aragon
---