Questions are born when we want to know something in our life but questions are also born when we experience the ups and downs of life.

Questions will give us the right answers only if we ask the right questions but sometimes even we ask the right questions still there is something missing in our puzzle.
Life throws us the most complicated questions that we can ever face off in our journey. Questions that will make us suffer for the entire of our life. Questions that will consume us and dragging us to the dark side.
Did you ever blame life for it's unfair rules and judgements to you for ending up being the looser or failure sometimes?
Our minds is like the vast ocean that hasn't been explored yet and there's a lot of questions roaming around in there. Thoughts that can be negative and postive at the same time. Sometimes our minds don't let us sleep until it's hunger for answers is not satisfied.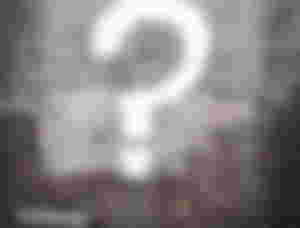 All of us have brains that are seeking for knowledges and different things. Our curiousity is driving us to do so , we need to satisfy that curiousity or else it will create various questions that will make our minds uneasy.
This uneasiness will make us stagnant, unable to move on and focus to other things going on around us until we fill in the missing piece that will make our mind at ease. Sometimes others influence triggers our curiousity to become wild and uncontrollable that resulting for us to try different things and especially those bad and illegal things.
And upon trying this things, we will come to the point of questioning why did we do that kind of things even we know it's not that beneficial to us. Questions that will make us questioned our self worth.
You see my life has been a peaceful one since I was young. We are living a simple life , we don't have a lot of money but still happy. As I grow up, all of the complicated things going on around us are starting to sink in to my mind. I finally understand to
In our journey here in earth we will meet various people that will have a part on how our life goes on and I met mine that changed my way of living and making me to take different path which is not right anymore.
GRADE 11 THE BEGINNING
This happened when I'm still studying in senior high school in Saint Mary's University located at the next town which is the capital of our province , Bayombong. I came to a public school then transfered there to have a better education as they are suggesting when I'm choosing where school to enroll.
Upon my stay there I've met many students with different walks of life and students with different attitudes. I'm a freshmen in that university and I'm the type of person where I don't interact to other students unless they invite me because I don't know what's going on in their minds If they like me or not.
I studied Grade 11 and Grade 12 there, being a senior high is not that easy compared when I'm in high school. Senior high is the 2 yrs preperation before going to college. From the first semester of the school year it was a hectic schedule and all our subject teacher were terrors. They are the rules within their field of professionalism. They throw harsh words to us when we made even the smallest mistakes. But I didn't take it personally for they are just doing their way of molding and improving us to be ready when college ,thats for me I don't know to others.
Grade 11 subjects are more difficult compared back then but it varries from what strands you belong. My strand back then was HUMSS or Humanities and Social Sciences that mainly focuses in oral reports , speeches , writing articles , realsearch , general mathematics, phylosophy, political science and many more. If you are in this strand, you must need a lot of confidence to stand alone in the stage, if you have stage fright you need to conquer it once and for all because that will stop you.
Months has pass by and a lot of quizes , exams and performances was already completed. And finally second semester is waving and just like before it was hell to be exact. I stayed up all night to finish projects , homeworks and reviewing for exams. Thanks God that all of the hardworks and sleepless nights pays off because at the end of the school year and it's graduation day , I belong to top 10 , I'm in 8th place, my final average was 92 point something so how much more the average of our 1st place, I can't imagine. In that moment I'm very happy about my achievements so we had a little celebration at home.
GRADE 12 TURNING POINT
Upon graduating in grade 11 it's automatically we are promoted to move on to grade 12 and we were happy about it, all of my classmates. I've made some friends through out the school year of grade 11.
As usual the schedule and all the activities to be accomplish through out the semester was hell , as in hell. We had a teacher that announced that he's the lion of the class , a teacher where in she is the law , a teacher wherein he is the commander and we are his soldiers and last but not the least , a teacher wherein he is a beast and that was our teacher in PolSci or Political Science. He's attitude was like a beast but I really admire him. I respect him the most of all the teachers I encountered. He's taming us, especially my classmates that brings troubles to the class. We are like a puppies in his palms.
In terms in academic, experienced activities after activities , exams after exams and performances after performances. It was a hectic schedule and we are worrying how we gonna finifh all of that in just 2 to 3 days. All of this push us to our limits and to surpass them. We finish our final exams for the first sem and luckily I didn't failed but my lowest grade was 80, I think it was phylosophy.
From that certain result of my grade , the demonic side of my mother triggered, she called me from abroad , she was an OFW , she talked to me and stab me with harsh words, words that should not be told to a son. She also stop funding my tuion for the 2nd semester. She said that I'll take care of it. From that moment my mind goes empty , hearing those words from her without knowing and experiencing all the hardworks I made in order to pass. She even compare that the eduction back then was thesame as of now and I had to disagree to that. She didn't know all of my sacrifices. At the end she was after for the Grade. Why is that f"ck"ng grade so important.
From that sudden turn of events, I loss my interest to study anymore because they don't care about my sacrifices and efforts , what they value is that GRADE. From that moment I didn't pay more attention in my studies and that made my classmates and teachers to approach me. Asking what's been going on with my life. Why now that we are in 2nd semester , I suddenly loss interest to study. I'm still doing what I have to do in order to pass but I'm not doing my best anymore to be at the top because that doesn't make me important to my mother if I do that. Despite that I still graduated but I do not belong to top 10 anymore.
Those judgement from my mother hits me so badly leaving a deep scar to my heart and even now as I write this, it still hurts. But If I will let it imprison me , I will not grow so I decided to continue my study again and strive again not for the sake of grade but for my self.
Every single students don't want to hear judgement especially from their own parents. Every single students wants to make their parents proud but we are hoping that our parents can see all the hardwork and sacrifices we made to complete our journey in studying.
This is my entry for the prompt made by maam @JonicaBradley "QUESTIONS".See the rules below if you want to make one.
The rules are simple:
Write about darkness

Write 100% original content

Write at least 600 words

Tag me @JonicaBradley

Have Fun!
Lead image:Unsplash.com