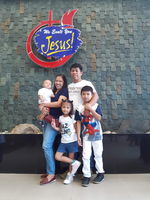 Date: October 12, 2021
Notice to my non-Filipino readers: There are few Tagalog words in this article. You may want to google translate if you want to know their meaning.
Good day everyone!. How was your week so far? Did you had a productive Monday? If you're going to ask me? I had a lazy Monday I would say. I felt so tired and I just wanted to rest all day yesterday after work.
In my yesterday's article: BCH asset to Fiat Currency to Shopee, I mentioned about my the items I have purchased from Shopee using my whole September read.cash BCH earnings. These are my gift to my husband for his birthday.
Last night, while my husband and I are laying in our bed preparing to sleep (while our youngest son is busy roaming around the room playing his tiny metal cars), I suddenly asked him about what date it is already. So he told me , it's October 11 already.
And so I said: oh!. My payday is waving and so as JUDITH (a.k.a Due Date).
And then all of a sudden, our wedding date just popped out in my mind. So I told him:
"Wait a minute!. Our wedding anniversary is nearly approaching as well! It's next week already!.
Then I checked my calendar to see what day is it on October 22nd.
And uttered:
"And I totally forgotten it. I even agreed to work on October 23rd (Rest Day overtime)". If I only knew, I would have filed a Vacation Leave on that date!
And guess what? When I asked him back if he remembered it, it turns out that he also forgotten about our wedding anniversary!.
Oh my God! He startled when he realized that our wedding anniversary is by next week already. We didn't had any plans yet.
It's really funny because both of us are already talking about planning on what are we going to do on his incoming birthday (October 31st) yet our wedding anniversary is even sooner than his birthday :).
And the thing is, I've already got work-related commitments weekend following October 22nd. And it's my kids examination week as well next week.
So then I asked him, so what now? How are we going to celebrate our wedding anniversary?
He answered: There's only one anniversary that I know we have to celebrate and it's December 14. And this year, we're already turning 20 years!.
I've felt slight "kilig" because he can still clearly recall the day that I say YES to him. Which to me, it means, he valued that day the most :).
Gusto ko pa sanang itanong kung anong araw yun kaso wag nalang at baka masira ang kilig moment ko..
"Ang tagal na pala natin noh? Ang tagal ko na ring nagtitiis sayo (biro lang syempre). "
Just a quick background, we became BF/GF when we're in fourth year high-school. It was December 2001. I was just 15 years old during that time. And hence, it's already our 20th year of being together this coming December 14.
He is my first crush, first love, first BF and of course my forever.
Sa mga bitter dyan, I'm so sorry because naniniwala ako na "May FOREVER". (peace!).
Here comes my question: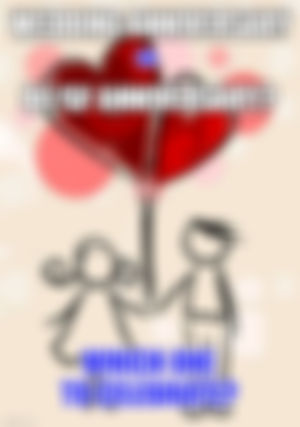 In my personal opinion, it depends with you and your partner. In most occasions I guess both deserves a big celebration. Because both events define you and your partner's milestone of being together. It is the time that you both agreed to walk in this world full of challenges and reach your dreams together.
But in our case, my husband and I gave more emphasis on the day we became bf/gf. We still use to celebrate our wedding anniversary though but in terms of intimacy of the events? BF/GF anniversary still weighs more than our wedding anniversary.
Is it because our wedding is just civil? I would say maybe, because to be honest, in my personal opinion, church wedding has more impact to you and to your partner. I mean, since you've tied the knot and you've exchanged your vows in front of our Lord Jesus Christ, the commitments on fulfilling those promises you've made together is more serious.
But then again, marriage is not the definition of successful relationship. It's between you and your partner's willingness to stay together and fulfill the promises you've made to each other.
Marriage is nothing if one between the two gave up on their relationship.
There are lots of marriage that did not worked despite the tears that the groom or bride shed during their wedding day. In fact, when Aljur Abrenica broke with Kylie Padilla, I believe there are MEMEs spreading about grooms who cried on their wedding day but then ended up with being separated after few years of being married. And the reason or breaking up? Third party - other woman.
---
Celebrating your milestones of togetherness is nothing if your relationship with your partner is at the edge.
Better to focus on how to make you and your partner's relationship grow. As long as you both have a healthy relationship, then you both can achieve a successful love story.
There are no perfect marriage or relationship. There are lots of struggles and challenges in between. There are lots of temptations that will come across.
But as long as you are both willing to stay together and has love for each other, it's worth the fight!.
---
Many thanks for dropping by and sparing 5 minutes of your time reading this article of mine. It's exactly 10:00 AM as of this writing so I have to wrap this up now because I have meeting at around 10:30 AM today.
If you still have some spare time, kindly visit my generous sponsors page as well. They have lots of interesting articles that you'll surely enjoy.