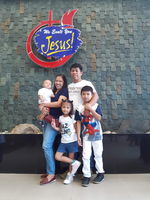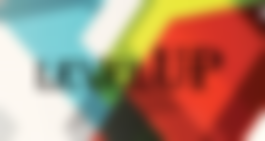 March last year (2020) when I asked permission from my Boss to work from home due to lockdown implemented in Manila. Aside from transportation unavailability, I am worried of bringing the virus home to my kids. I am actually worried about my kids than myself.
When my friends and relatives learned that I am no longer travelling to the office to work, they normally say "Buti naman atleast hindi kana pagod sa byahe" or "buti naman atleast kasama mo na ang mga anak mo". And at this point of time, I do agree with them cause I am able to save 6 hrs from my travel time , plus, I am more secured from the virus.
3 hrs commute? Yes!. 3 hrs each way (going into office and going back home). That 3 hrs includes my queueing time and the usual traffic. But in case of unusual traffic, it can go beyond 5 hrs (the worst and the longest in my experience so far).
I have three kids. My first born is 11, second is 7, and my youngest one is 3 yrs of age. I always struggle whenever I have to attend meetings or I have an unplanned calls. Plus, I am breastfeeding my youngest, hence I have a lot of interruptions all throughout my shift. Good thing, my husband's small business does not require his presence at all times. Hence I have partner in taking care of our three kids.
The declaration of ECQ last year has affected my husbands small business (barbershop). Barbershops are not allowed to operate during the lock down period. Hence we have to think of switching our business but capital is our main problem. Hence, my husband asked me to loan money from SSS (Social Security System) so he can use it as capital for whatever next business that will come up to his mind. Our barbershop is almost 1 month closed by that time, but we still continue to pay the rent (6000 pesos per month). The rental fee is painful to our budget cause the shop has no income at all.
As soon as I have received the loaned money worth 38,000 PHP, my husband decided to switch to a Bigasan (Rice) business. He don't have any idea about this business but we have a saying "try and try until you succeed". That 38,000 capital was able to buy more than 30 bags of rice as starter.
The place we are renting is a bit spacious, so it still looks like an empty store despite of having more than 30 bags of rice inside. As much as we wanted to add some items, problem is always the capital. We do not have enough money.
First week of our bigasan business, zero income. As in, no buyers dropped by. And then on it's second week, little by little, people nearby get to know of our store and hence we started to have an income (100 to 300 per day). But my husband is so patient. He opened the store at 6:00AM and closes at 8:00PM . He don't mind how many costumers came in. He remained with that schedule. He's also open Mondays to Sundays. That's how he is determined with his new business.
But then, that's when my work from home chaos started. My husband has to be full time in the store now. That means, I will be alone at home doing all the stuffs that we usually do together. I have to serve food to my children, I have to give a bathe to my youngest son, I have to wash the dishes, do the laundry, sweep and mop the floor. These work, I can do without any issue. But to take calls while your kids are fighting in the background, playing, running behind you, and laughing out loud while they're playing together is very challenging for me. Distractions are everywhere! I can no longer take video calls, only audio calls.
Pictures below describes some of the struggles on my work from home set-up.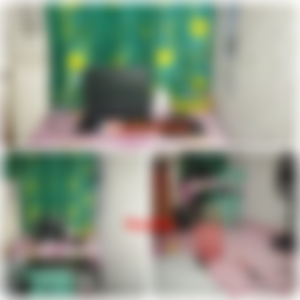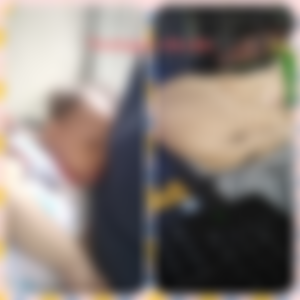 I have to do this in a daily basis. Whenever he fell asleep, I have to bear the numbness in my shoulder, pain in my arms just to let that little man sleep peacefully. I am not sure why kids of their age has a very strong sense of feeling. They know when you are about to put them into bed.
But still, the good thing is, work from home allows me to have a lot of time with my kids. We can even do a sideline (tiktok) after work.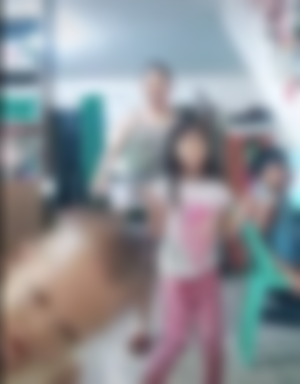 And weekend is laundry time of course.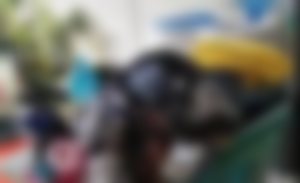 Fast Forward:
December last year (2020), as soon as I have received my 13th month pay, we decided to expand our business. Expanding means, we need additional person to help my husband in the store/ He can no longer do it alone so he asked his brother from the province to come and help him (of course with the corresponding salary). By this time, we've already received our store's business permit and hence it added it adds to my husband's eagerness to add more cause his store is finally legal now.
We've levelled-up our "Bigasan only" business to "consumer goods" business. We started to sell meat and fishes.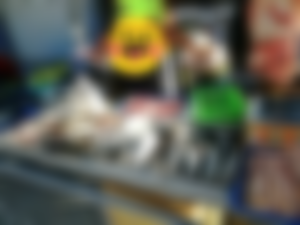 We also started selling vegetables and some fruits.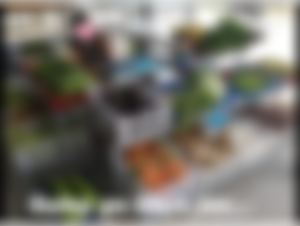 And then after few more days, due to holiday season, my husband added more fruits.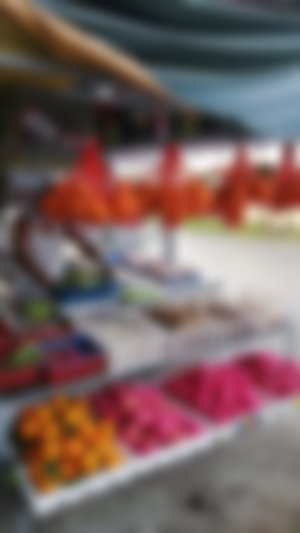 Then, summer of the current year (2021), my husband's business was expanded again. He was able to rent the vacant lot beside our store (for 2,000 pesos/month). We sold watermelon.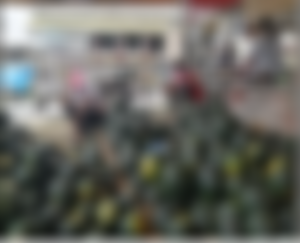 permission to write tagalog na po..dugo my noise na :)..
Nung una, akala ng asawa ko malulugi kami sa pakwan. In short, matumal ang mga bumibili nung malalaking sizes dahil medyo may kamahalan nga ang presyo. Bago lang sa pagpapakwan si mister kaya hindi pa nya alam ang strategy. Mas madami pala dapat ang maliliit at konte lang ang malalaki dahil mahirap itong maibenta. Madami sa mga malalaking size ng pakwan nya ang pumutok, and iba naman, naover-ripe na.
Pero hindi sumuko ang asawa ko. Pinaayus nya yung pwesto dahil mag tatag-ulan na din at para na din mas makahalina sa mga bibili. And ending, kumita pa sya ng nasa 5k :)..
And then, luckily, another opportunity came.
Yung karinderya na malapit sa store namin, nagsara. Sinalo naman ni husband yung pwesto para daw yung mga left over nya na gulay, isda, or karne, hindi masisira kasi iluluto sa karinderya kinabukasan.
Another strategy unlocked!
Kinuha nya yung asawa ng kapatid nya na tagapagluto at pagkatapos ay naghanap sya ng isa pang makakatulong para tagahugas ng pinggan.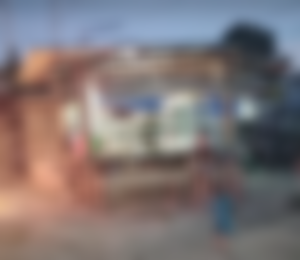 Dinagdagan din nya ng groceries ang aming bigasan, sabay dagdag ng stocks na bigas kaya hindi na aalog alog ang aming tindahan.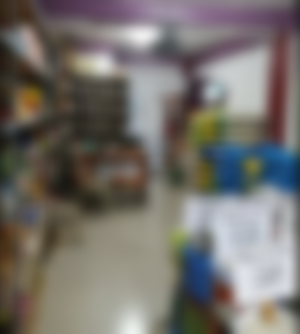 Closing remarks:
You need to believe in your own ability, in your capacity and of course in GOD. That whatever the business you start-up, how much the capital you have, as long as you're dedicated to your work, focused, determined. and is eager with what you're doing, you can make your dream a reality. There are ups and downs of course but these shouldn't be the reason for you to give up your business right away. Give it a chance, always.

I hope you have been inspired by our story :). Thank you for your time.