My Most Visited SocMed Sites Aside From Noise.cash and Read.cash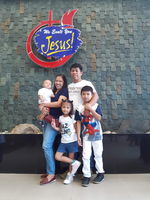 Happy Sunday guys!. How's your day so far? I've been busy all day actually. I've emptied our laundry baskets, (yes baskets, as in more than one basket) earlier. I've washed all of our dirty clothes and the swim wear we brought to our swimming last friday and saturday.
While doing my laundry, I also cleaned the house and cooked banana queue for my kids.
Anyways, enough intro. Let's go with my topic today about my most visited social media sites.
This is first in my list. When I get bored at work, I use to scroll with my FB. Why? I found this social media site helpful if you want to get an updatr with someone without them knowing that you're checking on them.
It's also my way of getting updates to the latest happening about my family, friends, and co-workers by just folowing their posts, without the need of chatting each one of them. Don't get me wrong guys, I am not Marites..hehe..There are times that I am just not comfortable to chat someone whom I wanted to know her or his situatuon is. For no reason, I just don't want to start any conversation, that's it!. Specially if I know that person is so talkative..hehehe.I just don't like long conversation..
This has been my husband and I's primary means of communication. Since we do have a weak sim network here in our house, my husband preferred to contact me via messenger whenever he is out (in our store). I am not sure why but Sun Cellular's signal sometimes cannot even reach one bar in here. Good thing we do have wifi, hence messenger became our main means of communication.
This is one of my bonding venue with my kids. Well, only my daughter and my you gest son. We do tiktok together. My eldest son however is camera shy, hence, he don't really want to join us. He would just laugh at us, and cheer us but he will never join...ever!.
This is my team's main source of communication whenever we're on shift. Teams is our main medium of communication at work. We use it to contact internal or external clients. We use it for our team meetings as it also bas a video capability (like zoom). We also use it as our training medium because it also has capability to share screen and record all of the audio and video. It's so useful in training recordings to be honest. We can also trim our recordings afterwards.
When we are off shift, let's say for example during weekends, our team uses whatsapp as our main medium of communication. Each of us are required to install this application in our phone. Our manager is based in London by the way, and we do have some other team members who are also based in UK. Hence, whatsapp is like our messaging and calling application if we wanted to talk with each other out of our working hours.
Youtube has been so helpful to me. I used it to search some home remedy medicines and how to prepare them everytime one of my kid is sick.
I also use youtube to search some troubleshooting videos for some stuffs like when our AC in our room produces loud noise as soon as we turned it on. I just search for that symptoms in youtube. We're able to fix it by replacing the capacitor.
Lead image has been cropped using Canva.
---
How about you guys, what is or are your most visited social media sites recently?
Let's catch-up also in noise.cash. Just feel free to visit my profile: Khing.
Thank you as always guys for your time and attention!...