A Proper Way To Start Your Day (Backed By Science And The Bible)
My neighbor's kids couldn't resist but to proudly inform me of their brand new smartphones. Oh, what a blessing it is to give 1500$ devices to 10 years old kids! I wonder what are they going to be used for! Watching cartoons? Or stumbling upon some of the degeneracy our world has to offer, like, pornography? According to some sources (link: https://www.netnanny.com/blog/the-detrimental-effects-of-pornography-on-small-children/), the average age of a child's first exposure to pornography is 11 years old.
Even though detrimental, such filth requires a certain time of exposure prior to leaving a mark, sort to speak, unlike EMF, that goes into action immediately. Those kids sleep with 5G phones under their pillows, but, If I say anything at all about the possible consequences, their parents would have proclaimed me a "lunatic", or "conspiracy theorist". The very nature of our organisms isn't capable of withstanding the amount of EMF we are being exposed to these days. Yet, those kids aren't exceptions. During the very first MINUTE after waking up, most people grab their smartphones to check the news & social-media notifications. Somehow, and somewhy, they expect the same action that led them to unhappiness and anxiety the day before, to miraculously change the outcome of a brand new day. Pal, that ain't gonna happen. Here is how such habits affect our minds:
a) PET scan by American Medical Association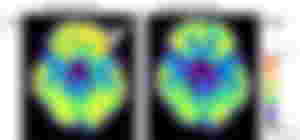 b) Thermographic image of the head by NTIA (National Telecommunications and Information Administration)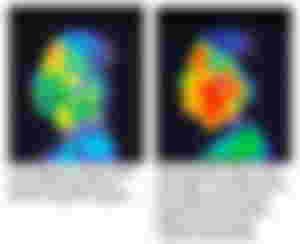 c) Scan by Bioinitiative-Report (2007)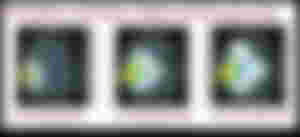 Read more about the effects of EMF on the human brain: https://www.ntia.doc.gov/legacy/broadbandgrants/comments/71B9.pdf
EMF also affects blood cells (especially red blood cells)! I came across a survey that was undertaken by the Libyan faculty of medicine, psychology department, and Saudi Arabian BMS (basic medical sciences): https://medcraveonline.com/HTIJ/HTIJ-06-00193.pdf
That survey has confirmed the legitimacy of the following scans:
a) the effects of EMF on human blood cells: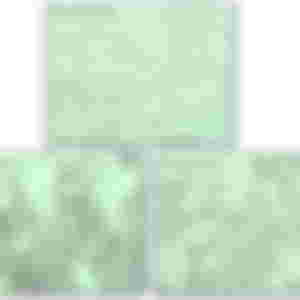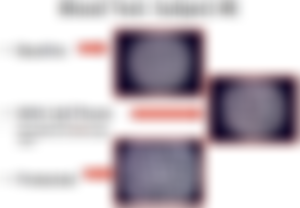 Behaviour is programmable. Actions are determined by habits. In fact, we may be considered "habitual constructs". According to my mentor, decisions build habits, and habits build a destiny. The only way to establish a habit is through repetition. Weak and naive-minded individuals fall for every possible trap the world throws at them. "It's modern", they say, to voluntarily become a victim of technology, and the consequences of over-exposure. One may indeed have a habit of being stressed out, which is an inevitable destiny of every news-reader. Subconsciously, unconsciously, or ignorantly, they program their minds to become addicted to chaos, or in the language of hormones, cortisol (prevalently).
Stress turns on the emotional response, while prolonged stress means being stuck in the "emergency mode", which guarantees diseases, 'cause hormones of stress downregulate genes and create negative long-term effects. One thought (which may be triggered or created by one negative news report...) alone is capable of turning on the stress response, which by default means thoughts can make us sick. If that is true (and it is), then also the opposite is true. "Positive" (healing) thoughts can make us well. Some of the emotional responses created by hormones of stress are anger, aggression, hostility, fear, worry, anxiety, guilt, shame, unworthiness, envy, jealousy, hatred, and hurtred.
Our world has deteriorated, and distanced itself from the willingness to face the truth so much, that nowadays psychologists call those responses "normal states of consciousness", which is incorrect, 'cause those responses are a part of the "fight or flight" system. If you start believing in their false premises that were purposely established by mainstream science as "factual", you'll have a hard time reprogramming your mind and creating new habits, 'cause learning is not a problem but unlearning usually is. Almost every change is uncomfortable, which discourages and prevents most people from ever leaving the comfort zone, no matter how detrimental it may be. In the words of Alex Jones, one must "break the conditioning", and start the re-wiring and reprogramming process.
As stated above, detrimental thinking (one form thereof is being addicted to chaotic news) must be cut, 'cause the volition of thought is carrying itself on its own continuity of evidence, from the five material senses. Once we change the habit, we also change the dominant frequency of our minds which changes everything. How we think determines how we feel, which creates a state of being, and forms something Sir Bob Proctor called "paradigm". If an emotional reaction caused by thought gets prolonged, it becomes a mood. A prolonged mood becomes temperament, and if not treated/recognized, temperament becomes a personality trait. That's why we need to prevent ourselves from thinking negatively, and being exposed to sources of detrimental results (thoughts), especially during the first hour after waking up and the last hour prior to going to sleep. There is a way of taping into high-mental states, and, in words of the Bible, being with the Lord (I'll share a few techniques in a moment).
What is gone cannot be brought back, therefore, the first thing one should do to start emotional and mental healing processes is moving on. Being stuck in the past and reliving it over and over has the potential of sending you to a permanent resting place (read: graveyard). Remember, stress is deadly, literally, science-proven. Well, the hardest part of the journey is the beginning, due to a program that our minds and bodies operate with. A great example is a tobacco-"addiction". You cannot be addicted to anything but oxygen, water, and food. Every other form of "addiction" is nothing but a firmly established mental belief (habit), without which the body can survive. According to smokers, the first 24 hours of non-smoking are the hardest. We may compare it with the cultivation of an abandoned, over-grown garden. Dealing with unwanted weeds, and turning over the soil may be rough, but that's what needs to be done if we want to plant vegetables, or flowers, right?

I succeeded at curing my stress "addiction", in a relatively short time by using the following techniques:
Reading positive "I AM" affirmations, during the first hour after waking up, 'cause at that time, our minds operate at "theta" levels (4-8 Hz), which eases the reprogramming process (the mind is prone to accept whatever we throw at it)! You can take that to a whole new level, by playing affirmations while sleeping. During sleep, brainwaves are slowed down to delta level (1-4 Hz). That's when the subconscious mind (a storing facility of our habits) is having a party.
Hint: don't think of your physical-Earthly self while reading "I AM" affirmations, rather, think of omniscient, omnipotent, and omnipresent God-in-you. There are many Biblical verses that approve this solution, but I'll share just one:
"Let the weak say, I AM strong!" Joel 3:10
Even though I've already published numerous articles containing great affirmations (Flow-State Affirmations By Rev. Ike, Dr. Joseph Murphy's Affirmations, The List Of Affirmations To Use During Hard Times, Affirmations To Call The Divine Presence Within, Money "Prayer"), you can expect some more to be published in the upcoming weeks.
I don't know why, but only 15-20 minutes of reading affirmations every morning give me enough mental power to withstand everything the world can possibly throw at me during the day. Perhaps, it raises the vibrational state of one's spirit, which, when combined with the knowledge capacity, determines the experience of reality. Just as thinking about chaos, disease, wars, corruption, and injustice lowers our joy, thinking and affirming love, health, joy, prosperity, and abundance raises the joy (the quality of experience). The reflection of the life we begin to see is totally different from that which is observed through 5 physical senses, sort to speak.
Meditation: according to Dr. Joe Dispenza, the word "meditate" means to become familiar with (thoughts, emotions, and the behavior of self). National Science Foundation confirmed that an average person has about 12,000 to 60,000 thoughts per day. Of those, 80% are negative and 95% are repetitive thoughts, therefore, meditation may be the most essential tool for the calibration and reprogramming processes of our minds. Apart from that, it is also very beneficial for the overall health of our physical and mental bodies. Dr. Joe Dispenza's team carried out a test in which they observed 7500 different gene expressions during the 4 days long examination of a group of people. Genes were examined before and after sitting meditation, walking meditation, lying down meditation, and standing meditation. The results were shocking! Common 6 genes that were up-regulated were (2) genes to suppress cancer cells and tumor growth, (2) genes for neurogenesis (growth of new neurons), stem-cells signaling gene, and a gene for oxidative stress, plus, the length of telomeres got increased, which means that meditation prolongs life expectancy.

---

Exercise: "Independent" published an article in which they shared results of German Mayo clinic that carried out a test on 2000 people. Allegedly, exercising increases the brain volume, and ensures more gray matter! A while ago, Dr. Eric Berg published proof that exercise slows down the mental aging process, which is also quite interesting.
Here are brain scans by Mayo clinic: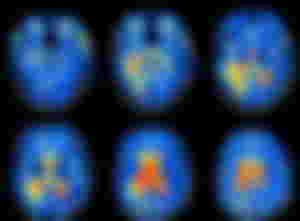 Walking shouldn't be ignored, either! A walk a day keeps the doc away: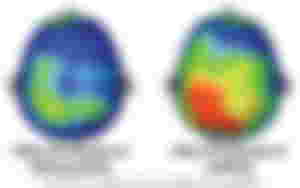 What we can read from the scan is that walking enhances both mental hemispheres. The left will make you more articulate, and capable of solving challenging math riddles, while the right is emotional and spiritual.

Once you start your day properly, everything will be smoother and easier. If you can't devote enough time to read affirmations in the morning, you can always listen to them (find and download some from YouTube) while going to work, rather than listening to the news or music filled with negative lyrics (negative affirmations). Every change takes time, so, don't be hard on yourself if you unconsciously (but temporarily) go back to old ways. If you persist, in the end, you'll be victorious!
Thank you for reading!
Very truly yours; Gemstone