Meet the artist behind The Galaxy Coin collection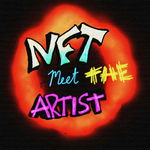 I have been dying to get this interview for a while its a project based right out of this world lol but its a really cool project that has plenty of blending of some great NFTs so I had to find out more about this project and it looks like a great project .
Hey
Hello!
How you ?
Doing great! How are things with you?
I cant really complain . How did you get discover NFTs ?
Beeple's art work, and GPK.
Why did you choose WAX for your project ?
WAX and AtomicHub seemed like such a great community of artists, creators, and projects that this was the best platform for the artwork. Also the sustainable model for their blockchain was very interesting.
What is the idea behind your project ?
The Galaxy Coin collection is a unique, low mint, stellar artwork project. Focusing on collectors, collections, and space exploration.
Combining encapsulated certified coins, and studying portions of astronomy. There's a vast amount of undiscovered terrestrial objects in the universe and trying to imagine what they would look like in a collectible format is super cool! Space exploration is something the that will continue far into the they future, so the collection will stand the test of time.
When did launch ?
The Galaxy Coin collection was whitelisted on AtomicHub December 2021.
How many NFTs have you dropped so far ?
There are currently 60 templates in the collection, and nearly 500 NFTs minted.
What was the first one you dropped?
The Verdant Terrestrial Nebula Galaxy Coin was dropped on December 19th 2021.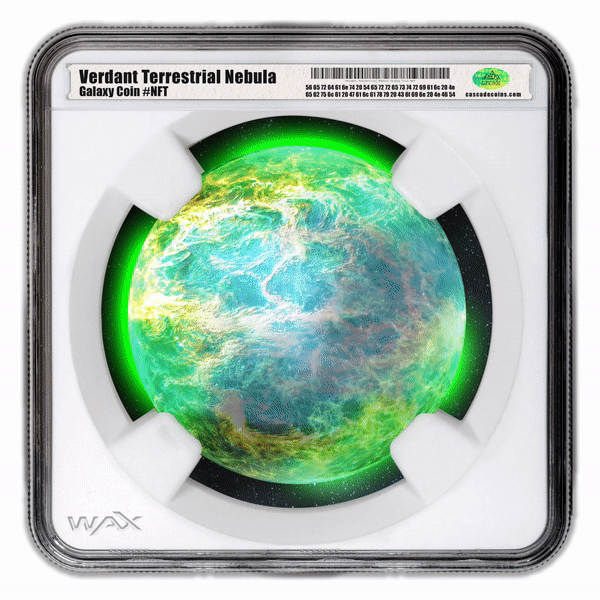 https://neftyblocks.com/c/galaxycoins1/drops/84890
This Nebula is a distant galaxy filled with lush tropical planets and a bountiful water supply.
If combines with the Garnet Phosphorus Nebula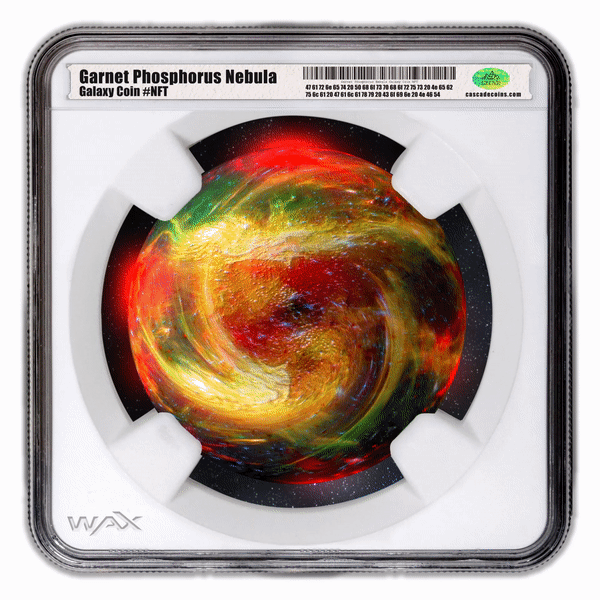 You will get the Sulfurian Cluster Nebula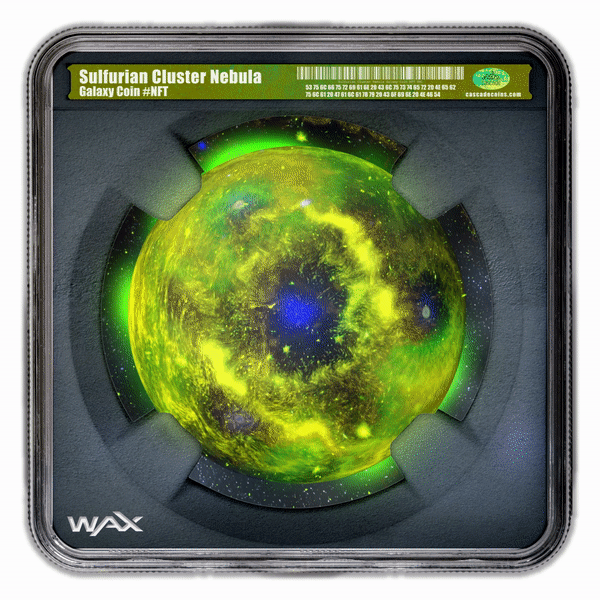 Blends - https://neftyblocks.com/c/galaxycoins1/blends
How did the community react ?
Everyone has been extremely positive about the artwork! It's very humbling to know how much people are digging the collection. I look forward adding to collection and growing a community of collectors. Discord has been a great way to connect direct with collectors.
What is the process of making your NFTs ?
Concept an idea, generating the artwork, compositing layers together, rendering image sequences, encoding into video files.
What programs you use for creation ?
Photoshop, After Effects, Media Encoder, Cinema 4D
How long this each NFT take to create ?
The 2D Nebula Coins take over eight hours.
The 3D Planets coins take a few days.
What is your favorite NFT you have made ? Why ?
The Egosie - Supernova Galaxy Coin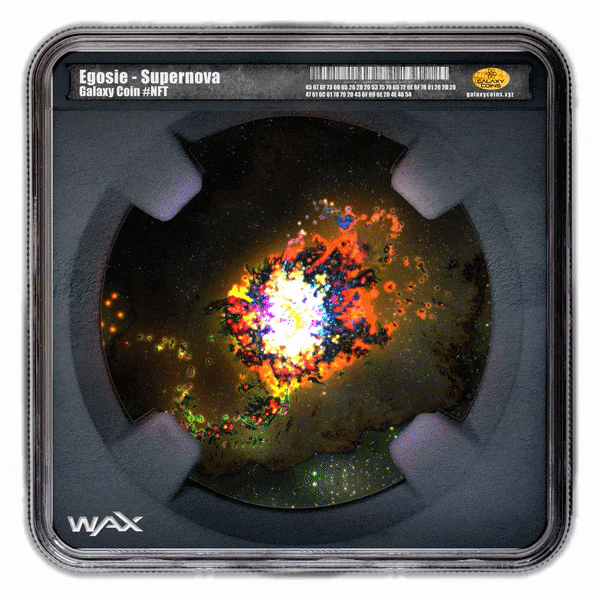 It's a one of the coolest 1/1 mint in the collection.
Have you done any collabs ?
Not yet, but that would be a great experience to work with other artists!
Who would be your dream collab ?
Collaborating with Topps on a GPK would be amazing, but there's a lot of amazing artists that would be humbling to work with.
Are you a collector of NFTs ?
Yes, from time to time. GPK and Funko have some rad old school art.
Who is your favorite NFT artist ?
BAYC and Big Cats are really cool!
What has been the best part of doing your project ?
Getting to know the community of collectors, and artists. Also, learning new tools, techniques, and applications. Growing a discord community is great!
What has been the hardest part ?
There hasn't been anything difficult, just carving out the time.
What does your family think of your project ?
Family support is always in full effect. They love Galaxy Coins!
Have you introduced anyone to WAX ?
Yes, definitely. Lots of friends and family.
Do you land on uplift ? If so where is it ?
Not currently, but going to start looking into it.
What you like to do to unwind ?
I love watching movies and tv from the different streaming services.
Tell us something random about you ?
I'm left handed.
Where is the best place to keep up with the project ?
Twitter
https://twitter.com/GalaxyCoinsNFT?s=20
Discord
https://discord.com/invite/UAFsfRz4c8
Website
Instagram
https://www.instagram.com/galaxycoinsnft/
Where can we buy your NFTs ?
https://neftyblocks.com/c/galaxycoins1
https://wax.atomichub.io/market?collection_name=galaxycoins1
NFT Hive
https://nfthive.io/market?refresh=true&category=&collection=galaxycoins1
When is the next drop ?
We are planning a drop next week for a moon collection, with some asteroids.
Any chance of a drop or competition for the readers ?
Sure! We can giveaway one of these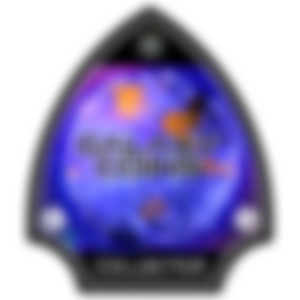 We always have giveaways happening in our discord server. Also wallet verified collectors have tons of perks in our server.
Is there anything you would like to add or say before we finish ?
We appreciate your time for this interview! Explore outer space, terrestrial objects, and vast nebulas by collecting the Galaxy Coin Collection.
No thank you for your time .
Guys check out all there links and there NFTs and be sure to keep up to date with there project and to enter the giveaway check the link below
https://twitter.com/Crackers832/status/1487200113328107531?s=20&t=aAcXiIqUU8DVQ6r0L9wi4w