(Update: This article has now been translated into Chinese by someone in the Chinese BCH community)
Most of my friends know I'm a big proponent of Bitcoin Cash (BCH). But I don't think any of them really understand why. This article is my attempt to explain to my in real life friends the many reasons why I support the big block version of Bitcoin.
First of all, I see BCH as an investment that has the potential to give me extraordinary returns one day. But with that said, if the only thing I was interested in was increasing my net worth, I wouldn't be sitting here writing these kinds of articles, or tweeting about BCH every day, or sharing BCH related posts on Reddit. Clearly, I see this as more than a mere investment.
But let's start with why I think BCH is such an amazing investment opportunity. You guys all bought BTC starting in 2017 thinking it was going to the moon (except for you Tom, aka no-coiner for life), but have you asked yourself why the value of BTC went up by so much in the first place?
At first, it was because so many people saw what this new technology made possible. They were excited by the ability of transacting with anyone in the world without needing to use some regulated third-party payment service that charges a hefty fee. Basically, it was like being able to directly hand someone on the other side of the planet a hundred dollar bill, instantly, and basically for free. People who understood this leveraged the technology to pay for drugs and other items on darknet markets like the Silk Road, increasing the demand for Bitcoin, causing the number to go up.
But this was only possible because BTC was still magic internet money that worked well as a medium of exchange. At the time, the 1 megabyte blocks weren't full, transaction fees were low, and BTC worked as intended. Unfortunately, this all changed when the number of transactions being processed exceeded what the network was able to handle. But instead of fixing the problem by simply raising the block size, the Bitcoin Core developers went a totally different route. They pivoted the original vision of Bitcoin as a peer-to-peer electronic cash system into being nothing more than another asset class for the rich to store their wealth, aka digital gold.
Don't get me wrong, the BTC network still works, but barely. At times it can cost you $50 or more to send a transaction, and you might have to wait days for a confirmation. This is why BTC proponents suggest their network isn't meant to be used for small payments. It's only meant to be the equivalent of digital gold bricks sitting in a digital vault.
You might argue it was right to pivot to the store of value narrative since BTC is still the number one cryptocurrency by far. But I believe this is merely the residual effect of BTC's brand recognition and lingering network effects. It's not like Netflix came along and immediately put Blockbuster Video out of business. It took time for people to move on and use a better option.
Luckily, the idea of a peer-to-peer electronic cash system was preserved in the form of Bitcoin Cash (BCH), which forked off the BTC network on August 1, 2017.
Essentially, BCH is the upgraded version of BTC, except most people don't realize it yet. As of today, the BCH network can handle approximately 10 times the number of transactions per second as BTC, but the plan is to be able to process up to 50 transactions per day for 10 billion people on the planet while always keeping the fees low. These low transaction fees will allow for microtransactions and result in new types of businesses (read.cash being a perfect example). And finally, due to the absence of RBF (replace-by-fee), which was incorporated into BTC but not on BCH, you can rely on 0-confirmation instantaneous payments up to reasonable amounts. This means you don't have to wait for a block to confirm when paying for a coffee, or a meal, or whatever you're buying at Target. As soon as the network sees the payment, the merchant can feel confident that the bill has been paid.
I'm not going to lie to you and say that BCH is guaranteed to one day become the next world reserve currency. Far from it. There is still a ton of work that needs to be done in order to scale the system to serve the global economy. But I do believe that BCH has the best chance of achieving that goal. And with the price of one BCH currently 40 times lower than the price of one BTC, I see it as the better investment with the potential for a much higher rate of return.
Let me leave you with one example that supports my thesis that BCH is the best version of Bitcoin. As you guys know, I'm a big fan of the site blockchain.poker. I've been playing there regularly for a while now, and it's obvious that BCH is by far the most popular version of Bitcoin being used. This is because people can deposit tiny amounts to the site and start playing immediately. You can't really do that with BTC since the fee might very well exceed the actual amount you're trying to deposit.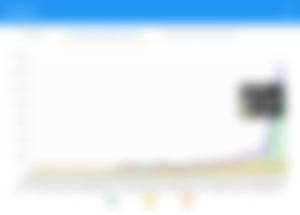 Okay, so that's why I've invested my money in BCH, but now let me explain why I'm also such a huge supporter of what BCH represents. Why I promote it online, why you found BCH stickers in my car that one time, and why I see BCH as more than merely an investment opportunity.
The last couple of years, my view of the world has been radically changed by my discovery of Bitcoin Cash. It has opened my eyes to how our current financial system really works (badly), and how BCH offers an alternative that can truly make a positive impact on society.
As people protest and riot all over the world, I can't help but ask myself what they hope to accomplish with their actions. I understand their frustrations, but you need solutions to fix a problem. Anger alone isn't going to get us anywhere.
I'm not saying Bitcoin Cash will suddenly rid us of racism, or poverty, or injustice in the world, but I do think it can help in all these areas. I wholeheartedly believe it is a revolutionary technology that can dramatically change the world for the better.
How?
For one thing, it gives us another choice, a way to opt out of the current financial system, and since when is it a bad thing to have more options?
I believe in free markets. But so long as our markets are controlled by central banks and the elite who run them, we will never have a truly free economy. But imagine a system that isn't controlled by any single entity, that can't be manipulated by a handful of powerful people, a system that doesn't need to rely on trusting humans to always do the right thing. Instead, we take trust out of the equation altogether. By being able to freely transact with people all around the globe, and not be at the mercy of banks and credit card companies, I believe Bitcoin Cash can bring about a new paradigm where borders are less important, where politicians have less power, and the incentives to cheat and steal become less appealing.
I believe the ability to perform microtransactions will create new opportunities we couldn't have predicted. There will be increased transparency, accountability, and efficiency. More economic freedom for the world can benefit all of humanity.
Maybe you think I sound delusional, but I hope that those of you who have known me for years, if not decades, see me as someone who isn't easily fooled, who thinks for himself, and isn't afraid to challenge others or their ideas.
I honestly think Bitcoin Cash can bring about the change that the world is currently seeking, and I want to be a part of that change. For what might be the first time in my life, I have found a cause I am willing to fervently dedicate my time and energy towards. And the best part is it isn't like I'm trying to be noble, or doing this out of the sheer goodness of my heart, but because I know that the more people who learn about BCH, the more valuable my BCH becomes. In other words, my incentives are aligned.
You can continue to think Bitcoin Cash is a scam. You can call it Bcash and Btrash all you want, but it's the version of Bitcoin that actually works, that has a real community, one that is built upon the original libertarian ideas that made Bitcoin (BTC) so popular in the first place.
Thanks for reading.
Your pal,
Cain
Enjoyed this article?
Earn Bitcoin Cash by sharing it!
Explain
...and you will also help the author collect more tips.