Two People Working Together Is Better Than One
Blog #242
May 14, 2022
It's already two days since we arrived from Cebu and in these two days, I only manage to write articles every 3 or 4 am. You might wonder why I had to wake up at this time, so today I will be sharing what keeps me busy over the past two days.
Helping My Partner in His work
My partner is an all-around worker in a construction job. He sets tiles, painting, electric wires installation, reading house plan is also his expertise, etcetera. What's good about him in terms of his work is his dedication to it. He has this mindset of always setting a certain goal to be finished in a day and I am proud of him because of that. As he always says, time is precious so make it more productive and fruitful each day.
When we went to Cebu, one week he hadn't worked and that made us have debt. We don't want to have debt but because of some unforeseen circumstances, we are now experiencing it again after how many years of avoiding it. But since we already are facing it, what we need to do at the moment is to help each other to pay for it all. So we talked about his work. We decided that I and my kids will stay for four to five days here in my partner's workplace and help him. Though many responsibilities are waiting at home this one needs to be prioritized first. Those things left at home can be worked on once I got home.
This week, his work is to do the flooring in five rooms and put red cement to it after putting the mixture of sand and cement. (Four rooms are big while the last one is just 3/4 the size of those other rooms.) Speaking of a mixture of sand and cement, I thought that it was just easy but I was wrong. Putting the sands into the sacks and bringing them to the rooms where we do flooring is tiring and it's painful to our back. On the first day of helping my partner, we were able to finish two rooms.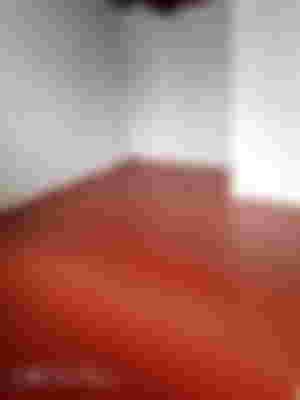 This was the first room. We finished it around 1 PM and at three pm we proceeded to the second room. I wasn't able to take a photo of the second room since we finished it at around 9 pm. After we finished it, that was the time that I really feel the pains all over my body but after taking a medicine, the pain slowly fades away.
Yesterday since it's Friday, we just do the flooring in the afternoon. In the morning, I washed our clothes while my partner made a cabinet.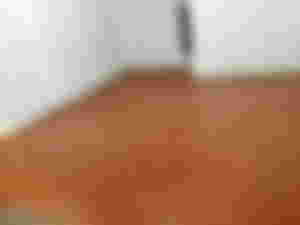 This was the third room that we finished yesterday. Two more rooms are to be done today so as expected, I can't be more active here again. I may be late in replying to the comments on my articles but rest assured that I will be replying once I have spare time. Thank you for your understanding.
I have to end this article here. Thanks for reading!
Two people working together is better than one because it makes the work faster to be finished. My partner told me the other day that if it's only him here in his workplace, he might just finish one room but because I helped him, we finished two rooms in a day. Thank you, God, for giving us the strength to find our work.
Thank you to my generous sponsors for the continuous support and to all who leave likes, comments, and upvotes on my daily publish articles, thank you so much. Have a blessed evening you all! This is me @BCH_LOVER once again.
Thank you. Keep safe y'all!