Thank You For Making This Day Memorable
Blog #397
November 06, 2022
What's up read.cash fam! It's been two days that I hadn't publish an article here since my mind was really empty. I also felt like not writing so I just spent time in noise.app. Supposedly, I won't be writing today because I decided to give myself a one week break. These past few days, my body felt too lazy to grind with my side hustles but I can't let this day thank all those special ones who made this day special.
Today is the day when I add another year of my existence. Thank you God for giving me another year to spend with the people around me. Being able to live up to this day is a great blessing. These past few days I was thinking of not celebrating this day but things changed when I checked my phone at dawn.
I was happy and at the same time felt emotional receiving an early gift and greeting from one of the ever generous person @Coolmidwestguy. I didn't really expect it. Thank you, thank you, thank you so much. I would never ever get tired of thanking you. You're the second person who is being so generous to me even if you didn't know me personally and I'm grateful to God to have known you here and be part of our journey in this wonderful platform.
In the morning, I received another greetings from my virtual friends. To those who left comments on my post either here or in noise.app, thank you so much to all of you. All those greetings are much appreciated by me. I hope and pray to God to bless you more in life.
My eldest sister also messaged me in WhatsApp and greet me this morning. I really thought she forgot my birthday because the first messaged I received from her was about the earning platform where we both join but after few minutes she greeted me and then posted in here Facebook wall. I was again emotional because in that post, my family except my father and elder sister, greeted me. I was beyond thankful for giving me a loving family who are there through ups and downs.
Thirty minutes had passed, I received a call from my elder sister in Whatsapp. As soon as I accepted the call, I heard her singing a birthday song. My day is already complete receiving greetings from all of them.
Lastly, let me thank this special virtual friend @Jeansapphire39 for greeting me in noise.app, here and even in Facebook. I know she isn't active in FB just like me but she still make time to leave a greeting in my timeline. Thank you so much sis for always being there for me. You always makes me happy and feel loved.
Time flies so fast. A crying kid is now a grown up woman. A woman who was tested by difficulties, struggles and heartaches but grateful to be still here standing strong and firm together with her family. A woman who once lost but now found her purpose. A woman who once can't stand up in here own feet but now facing life with a brave and strong heart because her family needs her the most. A woman who once let others control her life but now she is the one deciding and ruling her life.
Today is one of the most memorable day of my life. A day that I would be happy to look back in the future.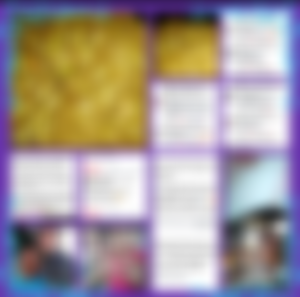 To end this blog, here's few of the happenings and greetings today. I had prepared pansit bihon. That's what my family shared during lunch time. Kids are very full, happy and grateful for the food. It's maybe a simple one but it becomes special when shared with our loved ones.
Thank you so much my dear sponsors for the support. God bless you all!