My Family's Favorite Dish: Sweetened Chicken Adobo
Blog #297
July 9, 2022
Hello, hello, what's up read.cash fam! It's been a long day and this afternoon our electricity was gone until now because of the heavy rain and strong wind. Good thing I have my power back charge so I am able to recharge my phone using it.
Anyways, since I'm confused on what to share today so I just decided to share my family's favorite dish, the Sweetened Chicken Adobo". Cooking chicken adobo isn't my expertise before but as time pass by I learn to cook it. At first time trying chicken adobo, I am using "NamNam" or "Ajinomoto" to season the Adobo but there came a time that we didn't have any of it available at home and we didn't have money to buy seasoning too so I tried using sugar instead to season it. At first, J was a little hesitant to use it since I hadn't done it before. But when my partner tasted it and said that it's delicious, I'm glad for the outcome of my cooked dish. Since then, that is always what we preferred cooking with chicken meat aside from chicken tinola.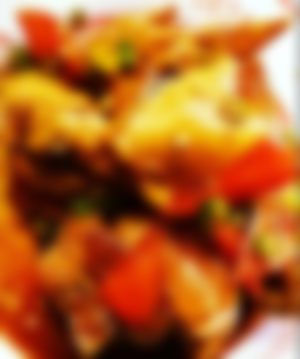 Here's one of the chicken adobo that I cooked this year. For me this is a special one because I put lots of spices in this one. There are lots of bell peppers that makes the dish smells good, and I also put lots of chillies to make it spicer but of course, I set aside the half part of the adobo first before adding the chillies for the kids. My kids especially Adam and Xandra don't want a spicy foods unlike Xander and Aeron who loves to have a little spicy on their food.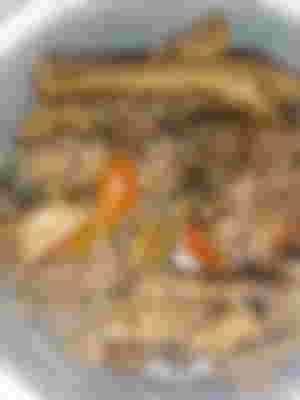 This afternoon while the rain was pouring hard, my hubby decided to slaughtered one of his pet chicken since it doesn't want to eat anymore. I began undressing the chicken at 2 PM and finish cleaning and chopping it at almost 4 in the afternoon. Then the cooking took almost an hour because we needed to let the meat chewable.
---
Chickens that are bought in the market and the native chicken is really different with the taste when cooked. Native chicken is always tastier than the ones in the market and that's what I love the most ever since I was young.
These are the ingredients of our Sweetened chicken adobo
Garlic

Red Onions

Ginger

Bell pepper

Oil

Black pepper

Chicken meat

Brown Sugar

Soy sauce

Vinegar

Water
That's all for now. How about yours, what's your family's favorite dish. Care to share with us? Just drop it in the comment section.
Happy Saturday and good evening to all!
Thank you my dearest sponsors for the continuous support. I really appreciate it and I hope and pray that your wallets will be filled with more blessings. God bless you all. This is me @BCH_LOVER once again. Thank you for spending time reading my article today. Have a good day and a blessed evening read.cash family.
Thank you. Keep safe y'all!