Meet Our New Addition To The Family
Blog #165
February 21, 2022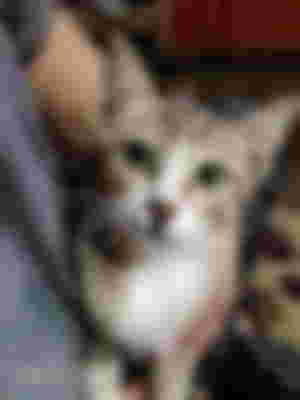 Meet our cutie Miming. This is his first selfie on my phone.
Miming came into our life unexpectedly. It was one afternoon when I asked my kids to buy snacks for them in our neighborhood. When they got home, I was shocked to see Miming behind them. At first, I was hesitant to let this little cat enter the house not because I don't like him but because of my trauma about what Adam had gone through when he was a one-year-old.
Flashback: September 2017
We were so busy preparing for our food for breakfast when we just suddenly saw Adam being grabbed by the Dog of our neighbor. And because Adam was too little at that time when the dog grabbed him, he laid down on the grass and the dog was on top of him.

Good thing that my uncle saw what happened and he immediately got Adam but sadly, Adam was already bitten by that dog on the face specifically near his mouth.

We immediately went to the center to let Adam be checked by the doctor but when we reached there the doctor hadn't arrived yet and it takes an hour before she comes.

And the bitten part of the dog has swollen already and my heart was aching seeing how my little boy had been enduring the pain.

When the doctor arrived, I thought we can get the anti-rabies shot but sadly the center didn't have any available at that time so the doctor just prescribes antibiotics so that the swollen part will be okay and they also referred us to one of the hospitals that offers a free anti-rabies shot.

The hospital was very far but I don't have any choice but to go there even if I don't have enough money in my pocket just to let Adam get injected.

The first injection was three shots. One on the left arm and two on his legs. I am too proud to see him not crying and the nurse praised him because he was so brave.

The second, third, and fourth injections were just two shots. One on the leg and one on his arm and thanks to God that nothing happens to my little boy.
October 2018
It was one evening after our dinner when our Cat named Mimi went home. We were so busy chatting together with the kids when suddenly we saw Mimi getting angry at Adam and he scratched the face of Adam. Thank God, it wasn't hit on the eyes, just beside it.

From then I promised not to have pets at home when my kids are still young because I think cat or dog doesn't like Adam.
But that promise broke when Miming came to our house a week ago. Miming is so sweet and at the same behave. He doesn't eat if it is not given to him, he just waits when the food is turned over to him.
One more thing that I love about him is the way she clings to us. I feel like he's our baby and every one of us really showed love and care to him.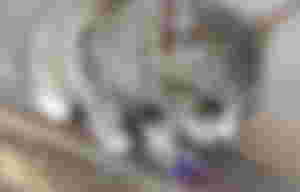 Look at our dear Miming, he holds his food so it won't fell to the soil. He's cute, isn't he?
There's one time when we have roasted chicken as our viand. When Miming made a sound, I immediately grab small meat for him to feed but he just smells it and ignores it. So I handed him the bone and he was enjoying it. That time, I realize that he doesn't want meat instead he only wants the bone.
But as days pass by, I feed him some meat if we had because I felt pity seeing him eating just the bones. Glad that he now eats the meat that I fed him.
Different Sleeping Positions of Miming.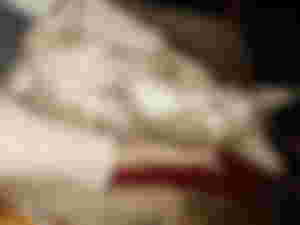 This one was taken yesterday. It was Xandra who puts him to sleep and seeing him in that position, I immediately grab a photo of him. He really sleeps peacefully if we carried him or we are beside him.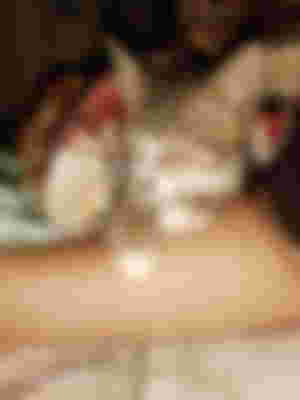 This one was this morning. I was just lying on the bed when he came near me. Then Adam cover him with a blanket because it was so cold. After all, it was gloomy outside.
While my hand was so busy scrolling the phone, he rested his head on my arm and slept. Even if my arm hurts and became numb, I didn't move because I'm afraid that I will wake him up. He just woke up when Adam get and cuddled him.
To my old and new sponsors, thank you so much for the support you have shown to me. I really am happy to see you in my sponsor's block.
To my active likers, commenters, and viewers, and to the ones who just pay a visit today, thank you so much for the love and support you give.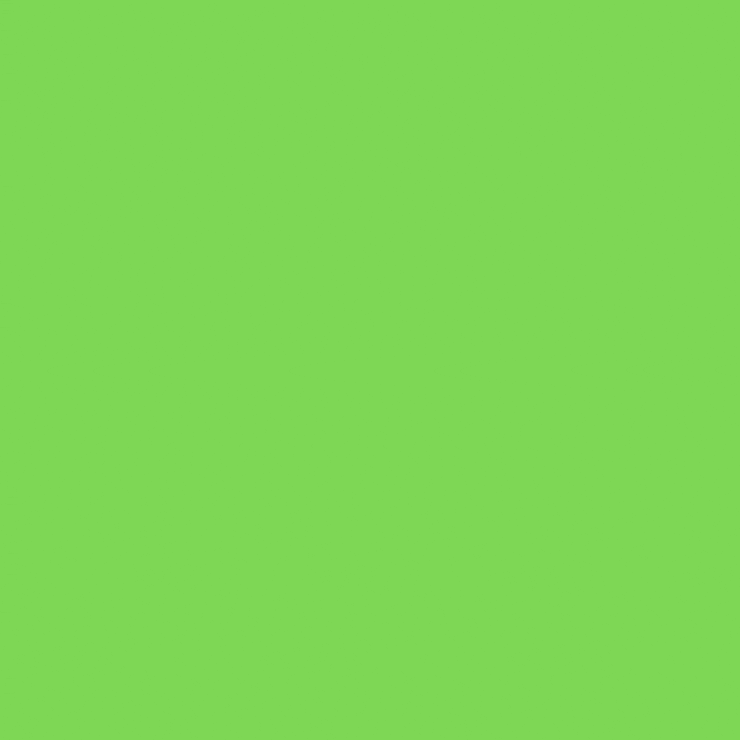 This is me, 🧕BCH_LOVER 🧕once again. Thank you for your time today.
God bless and Keep safe you all!
Before leaving, please hit the 👍button. Thank you so much!