It's Full of Enjoyment Traveling With My Kids
Blog #241
May 13, 2022
It's been how many years that I and my kids traveled to distant places. By that time, they were still small. During the trip, they would only sleep until we reached our destination. I was expecting that our travel to Cebu last week would be the same but my expectation was wrong. When they know that we were going to Cebu, the excitement was written all over their face and I couldn't help but feel excited too. It's been how many years since I haven't been to my birthplace.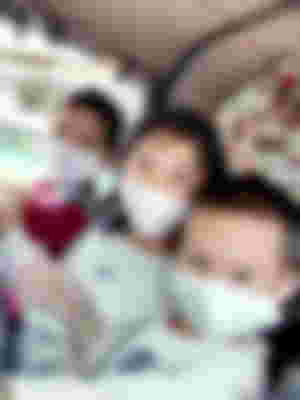 This was the first photo that I took on that day of our travel. We were riding a motorcycle going to the terminal of the Vans. I could see in their eyes how happy and excited they are. When we reached the terminal, we were seated in the last seats. During our whole travel, riding in a Van, the mouth of my kids didn't stop talking about what they saw around. They giggled, laughed, and even shouted a little when they saw beautiful views around. It was an unexpected trip but it was one of the most memorable trips that I had with my family.
Riding The Ship
When we went up to the ship and occupied our respective decks, the kids immediately asked permission if they could stay beside the railings so they could watch the view below. They were guided by their father and at that moment, I could see the enjoyment that they had on that day. My kids even said that they won't sleep the entire night but as soon as I woke up from my sleep, I saw them sleeping peacefully. In the morning when we almost reach the Cebu pier, I joked with them saying that "I thought you won't sleep last night". Xander replied saying their father told them to sleep because it was a long travel.
Riding the Bus
Same in the Van, we occupied the last seats on the Bus too since we were six. The journey was the same this time. There was still enjoyment especially when we reached Dalaguete, Cebu. Starting at that town, we could see the view of the beautiful sea until we reached the Bus Stop in Samboan.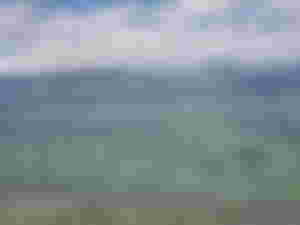 This was how clear the seawater was. The white smooth stones can be clearly seen. Adam even said that we should step down from the bus so we could swim in the sea and we were laughing at what he was thinking. When we reached the bust stop in Samboan, Cebu, we were fetched by my sister and youngest brother. Adam, Xandra, and Aeron ride on my sister's motorcycle. My sister told me that while they were going home, the three kids were enjoying the rides and they kept on shouting in joy.
The travel that we had was full of enjoyment and that experience would be forever cherished. I am thankful to God for our safe travel in going to Cebu and going back home. They say that it's very tiring when we traveled with kids and that's a yes but the fun and enjoyment were more dominant.
Thank you to my generous sponsors for the continuous support and to all who leave likes, comments, and upvotes on my daily publish articles, thank you so much. Have a blessed evening you all! This is me @BCH_LOVER once again.
Thank you. Keep safe y'all!