Claim Free Litecoin, Digibyte, Wax And Sats From Bitcoiner.me Faucet
Blog #262
May 31, 2022
Hello, read.cash family! Happy Tuesday!
In yesterday's article, particularly on the last part, I have told that I will share the faucet where I claim free crypto coins. Aside from the CCTip that I am earning many types of coins, there is also a new way of earning free coins by claiming it through the faucet that I will share later.
For now, let me just share this thing that I discovered with the Bitcoin Aliens Applications. In Free Bitcoin App, the minimum withdrawal of it when I started is 10k satoshis that if reached will be payout during Tuesdays directly to the wallet inputted. While the Free Litecoin app, the minimum satoshis to be paid out is 100k satoshi. But yesterday, I discover that we can actually lower the minimum payout. But be sure that the wallet where you get your BCH and LTC address that was inputted has no minimum received amount just like CCTip, Bitcoin.com, Coins.ph, and Coinbase which accepts or receives even a small amount of crypto coins.
For BCH:

For LTC:

Here's the step to change the minimum amount:
Click Control Panel

Next is click Payment Threshold

The last step is to choose your desired minimum amount.
Those are the three easy and simple steps in choosing your desired minimum payout.
---
Bitcoiner.me Zesty Faucets
I discovered this faucet last March if I am not mistaken through a Telegram that gives free sats. I also tried claiming from that faucet once that time but I just set aside it after because I am focused on other things.
Just last week, I tried claiming on the four faucets that it has which are the Free Litecoin and Free Digibyte. The address that I used in claiming these two faucets is from my CCTip wallet. While the Free Sats and Wax, I used my Coinkit Address to claim since the Wax token is not listed on CCTip.
How to claim on those faucets?
Bitcoiner's Zesty Litecoin Faucet
Bitcoiners.io Zesty Lightning Faucet
Bitcoiner's Zesty Digibyte Faucet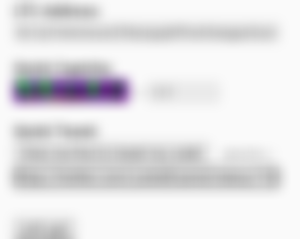 Steps in claiming:
Click each faucet one by one
After Input the address (Litecoin address, Digibyte Address, Lightning Address, and Wax account name and its memo)

After inputting the address, you will be asked to solve the Quick Captcha. You will just add the numbers given.

When you answered it correctly, you are needed to tweet your code. (You must log in to your Twitter account so you could tweet)

After tweeting it, copy the link of your tweet and input it into the box provided on the faucet page.

Lastly, Click Let's go and your free LTC, Wax, Sats, and DGB are on the way to your wallet.
Note: You can claim every 6 hours from those faucets
: Every Tuesday, there's an additional bonus once you claim from their faucets.
: No need to pay a transaction fee when claiming.
Those amounts that can be claimed in the faucet is just small amount but if you're consistent in claiming, you will be able to earn more in the future.
Thank you my dearest sponsors for the continuous support. I really appreciate it and I hope and pray that your wallets will be filled with more blessings. God bless you all. This is me @BCH_LOVER once again. Thank you for spending time reading my article today. Have a good day and a blessed evening read.cash family.
Thank you. Keep safe y'all!